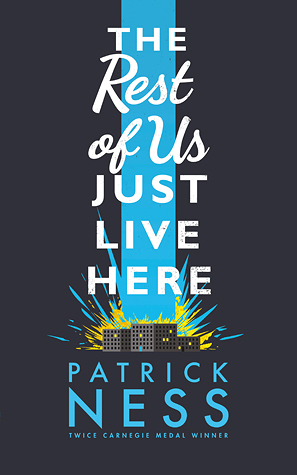 Title: The Rest of Us Just Live Here
Author: Patrick Ness
Rating: 5/5 stars
Series? No.
---
Fact:  I will systematically read everything Patrick Ness writes because he owns a piece of my heart.
Fact:  I am always afraid that my next Patrick Ness book will disappoint me, because how could ANYONE wow fickle old me consistently?
Fact: Patrick Ness delivers once more with The Rest Of Us Just Lives Here. A book largely devoided of magic and grandeur, but so completely audacious and heartbreaking and magical anyway.
IT POKES A LITTLE FUN AT THE YA GENRE
One of them showed me a poem about how we're all essentially alone. As if they're not the biggest clique of togetherness there ever was.
Each chapter in the book begins with a flash to the indie kid's storyline – you know the ones: Destined (with a capital D) for larger than life stories: they hunt down vampires and deities and immortals, saving the world and dying in the process. The book points out how laughably mundane and predictable their crazy lives are: from their supernatural lover to the constant betrayals that rock their world. In fact, the indie kids and their lives are so predictable that they've repeated the same story for generations in this town. Even their quirky names such as Finn or Satchel are laughably monotonous.
I love the little references to the fact that YA protagonists always seem to be stuck in a different era, where teens apparently appreciates poetry and never uses the internet. I laughed out loud as familiar tropes are mocked: "then he tells her she's beautiful in her own special way and that's when she knows she can trust him".  While I'm primarily a reader of YA genre fiction, I thought Patrick Ness did a great job with this section of the book.
IT CHAMPIONS EVERYDAY STRUGGLES
"Because sometimes there are problems bigger than this week's end of the world and sometimes you just have to find the extraordinary in your ordinary life."
While genre fiction is filled to the brim with the greatest and latest supernatural creatures, what they tend to lack in is an emotional core or diversity. But here, we have teenage years in all their ugly and messy glory, as presented by our colourful cast of character.
There's Henna, who will be whisked off to Central Africa on a missionary as soon as she graduates highschool. There's Jared, who loves boys and is adored by cats (he's basically your modern day Bastet – in fact, he pronounces himself as 3/4 Jewish and 1/4 God).  Then there's the beautiful sibling: Mikey who's struggling with his own head, and Mel who's still recovering from an eating disorder. This book highlights all of their internal struggle, while pairing it with the all too familiar fear of graduation.
I will be honest, my own high school life was pretty charmed and vanilla – so the only thing I could wholly relate to is the fear of separation from my friends when graduation rolled around.  However, with such a diverse cast, I am certain many teen readers could relate to this book on a more emotional level.
SIBLINGS & FAMILY LOVE
We share our craziness, our neuroses, our little bit of screwed-up-ness that comes from our family. We share it. And it feels like love.
I love Mike and the relationship he has with his siblings, especially Mel, so goddamn much. Mike and Mel are just so mutually supportive. Despite their own weaknesses, they always aim to be strong for one another, to pick the other person up when one of them stumbles. They remind each other that someone loves them, that they matter, even if crippling despair and desperation may be telling them otherwise. I love how much they adore their audacious and bubbly younger sibling: Meredith.
I also really enjoyed seeing parent figures that were not pushed to the sideline. In fact, Mike's mother played an active role in shaping her children, for better or for worse. She was never pushed out of the picture conveniently for the sake of plot development – in fact, her own voice became important in the story.
CAVEATS
While I am in crazy love with this book, there's a couple of things that could put people off:
There's no linear plot, there's no villain for them to overcome, there's no conventional romance – basically, if you're expecting a typical YA book you won't get it.
The characters are messy, their intentions while good, comes with questionable action. I wanted to shake them so many times – actually this is what made me love them.
I would tell you to read the book anyway, though. I am the last person on Earth who would want to read about a bunch of boring kids – I'm a fantasy snob! BUT THIS BOOK IS AMAZING.