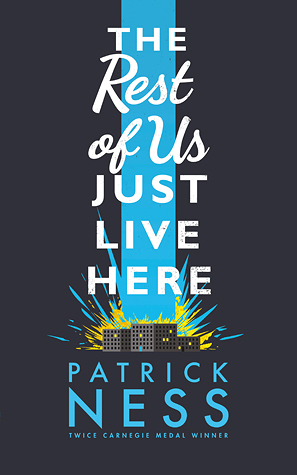 Title: The Rest of Us Just Live Here
Author: Patrick Ness
Rating: 5/5 stars
Series? No.
---
Fact:  I will systematically read everything Patrick Ness writes because he owns a piece of my heart.
Fact:  I am always afraid that my next Patrick Ness book will disappoint me, because how could ANYONE wow fickle old me consistently?
Fact: Patrick Ness delivers once more with The Rest Of Us Just Lives Here. A book largely devoided of magic and grandeur, but so completely audacious and heartbreaking and magical anyway.
IT POKES A LITTLE FUN AT THE YA GENRE
One of them showed me a poem about how we're all essentially alone. As if they're not the biggest clique of togetherness there ever was.
Each chapter in the book begins with a flash to the indie kid's storyline – you know the ones: Destined (with a capital D) for larger than life stories: they hunt down vampires and deities and immortals, saving the world and dying in the process. The book points out how laughably mundane and predictable their crazy lives are: from their supernatural lover to the constant betrayals that rock their world. In fact, the indie kids and their lives are so predictable that they've repeated the same story for generations in this town. Even their quirky names such as Finn or Satchel are laughably monotonous. Continue reading "Book Review: The Rest of Us Just Live Here" →