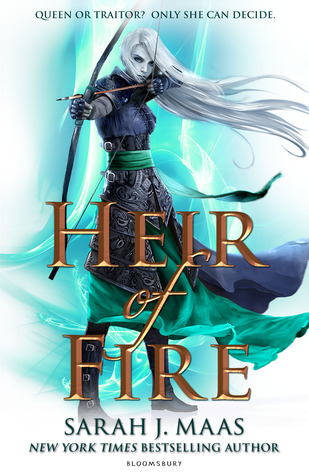 Title: Heir of Fire
Author: Sarah J Maas
Rating: 5/5 stars
Series? Yes, 3 of 6!
---
Throne of Glass week continues! Heir of Fire absolutely knocked my socks off and turned me in a rabid fangirl of the series.
In this book, we get to see more worldbuilding and magic – but what we get even more of are CHARACTERS.  There's development of old characters and a whole host of new ones that I fell in love with. I'll mainly examine the characters today (as I would hate to be repeating myself across all my posts this week XD)
---
A LOOK AT THE CHARACTERS
Aelin: 
"She was the heir of ash and fire, and she would bow to no one."
I might be amongst the minority with this opinion, but I vastly prefer Celaena as Aelin.  Although she has not quite shed her Celaena persona for most of the book, I loved seeing the glimpses of the strong, wilful queen she will one day become. For most of Heir of Fire, Celaena struggles with her identity – she desperately tries to evade her past in spite of the numerous reminders. Although at times, I did find her POV a bit slow, I really empathised with her struggles to find herself amidst all of the darkness that has plagued her life. Watching her grow throughout the book was simultaneously difficult and rewarding. I loved the juxtaposition between the growth in her magic and her development as a character.
Rowan:
"You collect scars because you want proof that you are paying for whatever sins you've committed. And I know this because I've been doing the same damn thing for two hundred years."
I don't even know how I'll keep myself from flipping out and COMPLETELY OVERTAKE THIS POST WITH CAPSLOCK FANGIRLING but I am 100% in love with Rowan *sighs wistfully*  His character type is not one I usually enjoy: broody, ancient, alpha, otherworldly creature with a tragic backstory usually has me dashing the other way – but my love for him DEFIES REASONS OK. I really love the connection he has with Aelin – I feel that they instinctively understand one another as they have both had painful history. I love the way he challenges her, always making her confront truth rather than hide behind her smart mouth and prickly exterior. Rowan/Aelin is pretty much my ship of the year, guys. I am a shameless fangirl and I am NOT SORRY.
Manon:
"You didn't need a weapon at all when you were born one."

Manon is a bit like Daenerys, in that she frolicks with dragons wyverns and has a story that remains very peripheral to the main action – however, I loved reading from her POV. I feel that Manon is what I wanted book 1 Celaena to be: unabashedly bloodthirsty and iron-willed. I also really liked the matriarchy society of the witches, I thought it made for a fascinating bit of world building. Although Manon likes to believe herself a heartless monster, we all know otherwise because of her love for the underdog wyvern, Abraxos – as well as her strong connection with The Thirteen, her loyal and elite group of followers. Basically, Manon for Queen!
Aedion:
"…Aedion Ashryer let himself be led into the darkness…
He did not mind dying.
Though he still wished he'd gotten a chance to see her—just once."
At first, I thought to myself 'Who is this jerk?' when Aedion arrived and was causing all sorts of fuss for Chaol. Then I discovered that he was just a loyal puppy dog and my heart melted. I am easy like that, OK? But jokes aside, I did really enjoy his character arc – and learning about how he's had to adapt to survive in a world ruled by his mortal enemies. Aedion is a man who can remain true to his cause, despite the lies that he has to tell the public for a decade.
Chaol:
You just finally saw everything. And once you saw that other part of her… You cannot pick and choose what parts of her to love.
Poor Chaol, if only the book/Sarah J Maas could be nice to him for once -but such is the curse of this series, all the darlings must suffer.  I was never an ardent fan of Chaol, but I really felt for his struggles here. For a man who has always been straight laced and honest, he's had to learn to be deceitful, he's also had to deal with emotional conflicts: of anger, of confusion, of opposing loyalties. Our Captain learns in this book that doing the right thing does not always mean doing the lawful thing – and he also has to pick a side. Imagine my delight when I realise that his picking a side does not mean picking love, it means picking Dorian. They are possibly the strongest bromance in the YA fantasy game right now.
Dorian:
When Dorian had spoken, it hadn't been a prince who looked at him.
It had been a king
Dorian sort of… disappeared from the series a little in this book? He had a sweet romance with Sorcha, a palace healer – if I were to be completely honest, their narrative bored me a bit. Dorian is vastly more mature than the rest of the other characters in this book, I guess he benefits from having his emotional catharsis at the end of book two.  However, Sarah J Maas always one-ups her characters, so by the end of Heir of Fire, he has another emotional hurdle to cross. I will talk more about him in the next review, but for Heir of Fire, that's pretty much all I've got *shrugs*
---
Heir of Fire sets up the stage for the next book, and establishes an emotional core for our characters going forward. It's also the point that the series starts coming into its main plotlines and set up its big players in the conflicts to come. I am so excited at the direction that the story is taking!
Coming up next on the blog is my review of Queen of Shadows and a graphics post!
If you haven't read Queen of Shadows, check out this Goodreads Read-Along hosted by Anjie, Josie, Erika and Miedjel!