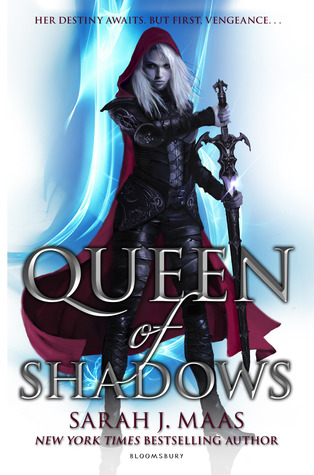 Title: Queen of Shadows
Author: Sarah J Maas
Rating: 5/5 stars
Series? Yes, 4 of 6!
Goodreads
Book Depository
---
This is my last book review to cap off the Throne of Glass Week on the blog! I still have to read The Assassin's Blade at some point – but my heart can't take it at the moment — SAM!!
There will be SPOILERS in this review for the previous three books, but I will try keep it free from QoS spoilers – even though all I want to do is shout randomly in capslock *wails*
1. AELIN THE QUEEN
"She was fire, and light, and ash, and embers. She was Aelin Fireheart, and she bowed for no one and nothing, save the crown that was hers by blood and survival and triumph."
Aelin returns to Erilea newly born after her experiences and growth in Heir of Fire. She's no longer the Celaena we knew from Book 1 and 2 – while I am thankful for that as I thought those were the weakest books of the series, I can understand how the alteration would alienate older fans of the series. I love Aelin because she was confident, as oppose to arrogant. She calculated, instead of being impulsive or hot headed. She also fully embraced and understood the value of comradeship – while she had a beautiful relationship with Dorian and Chaol in Book 1 & 2, I felt she had always held a part of herself back subconsciously due to her hidden identity.  In Queen of Shadows, she is surrounded by both new friends and old who are ready to love and support her while knowing her for her true self. It makes me seal clap with joy!
2. MORE AWESOME LADIES & THEIR RELATIONSHIPS WITH EACH OTHER
"Please," Lysandra said, waving a manicured hand, "you and I are nothing but wild beasts wearing human skins. Don't even try to deny it."
I was so sad when Nehemia passed away, her relationship with Celaena was one of my favourite aspect of the older books. However, there are numerous female relationships and friendships being highlighted in this book, they fill the hole in my cold heart:
Lysandra and Aelin: Now, I've read a couple of the Throne of Glass novellas way back before the first book was released, and I never thought Lysandra could be someone I would come to love. However, this book completely turned me around as we are able to glimpse into more of her motivations and her ultimately compassionate core. I love her initially tenuous friendship with Aelin. The two knows exactly what makes one another tick, and watching them overcome the demon of their past- Arobynn – was wonderful!
Manon and Asterin: We didn't get to see too much of Manon's Second in Heir of Fire, thankfully Asterin got a lot more page time in Queen of Shadows. Readers get to see her as a woman with her own minds and morals, despite the homogenous preaching of the coven that dictates they should all be bloodthirsty, human-hating monsters. Asterin acts as a catalyst to Manon's own questioning of her moral compass and ideals. I love their relationship so much.
There are also two new characters in Nesryn and Elide. Unfortunately, I couldn't connect to either of them, and found myself wanting to skim Elide's pages desperately. I think with time she will grow on me in subsequent book, I HOPE? I felt that Nesryn was more or less a consolation prize for Chaol, sadly. I didn't get to see much of what makes her tick, but since she is the only WoC in the series at the moment, I hope to be seeing more of her and her development in future chapters.
3. THE ROMANCE
"If you're a monster, I'm a monster."
I can't say much more without risking absolute spoilery zone, but suffice to say, I NEED THIS BOOK TO TURN FROM YA INTO NA FOR THE SAKE OF THESE TWO IN THE NEXT BOOK *sighs wistfully*  I was ready for Queen of Shadows to turn into a bodice ripper in all honesty. The tone felt a bit jarring considering what was going on in the book at the time, but I did not even care. Shipping makes you shameless like that.  Though in all honestly, I felt that they are a very good match, as they wholly understand and are so deeply connected, you could feel all the other characters in the book either smirk in comprehension or look away in embarrassment from sheer chemistry.
 4.  HIGHER STAKES
"Sometimes there won't be a right choice, just the best of several bad options."

What I loved most about Queen of Shadows is how it upped the ante on everything we've learned in the series.  Villains that I previously thought to be the ultimate bosses now looks like child's play compared to what Aelin & co. has to face in the future. I loved the constant twist and turns the series brought, and I really felt that this book was the final chapter on Aelin's old life and the beginning of a grander battle. All throughout the book there was incredibly high suspense, emotions, and I loved seeing Aelin reconciliate her past with her future.
5. OLD PLOT AND NEW SCHEMES COLLIDING
"Ten years of shadows, but no longer. Light up the darkness, Majesty."
Queen of Shadows was the perfect middle book to the series as it tied up old plot threads and brought all the major players to the board.
The old characters are given new purpose and life. We have Dorian, who's in a pickle since the beginning of the book as he grapples with darkness and all the different types of demons. We have Chaol, who's finally picked his King and will go to any length to save the man he calls brother – their relationship is beautiful and the bromance begs to be acknowledged despite the fact that I am running out of space.  Although Chaol remains frustratingly knuckle-headed for the majority of this book – he lacked direction in the previous novels, and it seems now that he's found his cause (at great costs), it's hard for him to let it go.
There's also a whole lots of new meetings in this novel, most are spoilers, so I won't elaborate – but they are all suitably epic. I can't wait to see what the future holds. WHERE IS BOOK FIVE? *rolls on floor on despair*
---
I know this book was quite polarising amongst fans, but I personally loved it!  If you've read it, what did you think?
If you haven't read it, join in this Goodreads Readalong hosted by the lovely Anjie, Josie, Erika and Miedjel!
Tomorrow I will conclude the Throne of Glass week with a graphics post :D! It's a bit different from my usual style but I hope you will all enjoy it regardless!