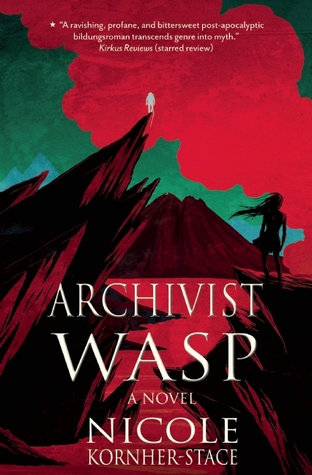 Title:  Archivist Wasp
Author:  Nicole Kornher-Stace
Series? No.
Ratings: 5/5
---
August has been a fantastic reading month for me thus far! Archivist Wasp was purchased because I saw The Book Smugglers, some of my most trusted book bloggers, gushing over it on their site. Equipped with a unique setting, beautiful writing and compelling characters, this book was sure to steal my heart.
A LAYERED & DEEPLY FLAWED PROTAGONIST
I am the Archivist.  Catchkeep's emissary, ambassador, and avatar on earth.  Her bones and stars my flesh; my flesh and bones Her stars.  Mine is the mouth through which the dead world speaks.  Mine are the hands that record what the dead world left behind.  Mine are the eyes that hold vigil, so that the old world's death does not return to kill the world anew.
Archivist Wasp has been serving as the Catchkeep's mortal emissary for three years.  She was not born into the role, Wasp had to kill the previous Archivist to attain this position.  Every year, Wasp has to fight and eliminate younger upstarts to keep her spot as Archivist.  It's kill or die, though Wasp has tried in vain to spare the upstarts who challenged her.
As Archivist, Wasp's primary function is to seek out, contain and record information on the many ghosts that inhabit her post-apocalyptic world.  None of the ghosts can speak, so many generations of Archivist have searched in vain for an answer to why The Before world has perished.  At the beginning of the book, Wasp encounters the first ghost in recorded history who can speak – and together they embark on a quest to the underworld.
As mentioned in my discussion posts this week, though I don't mind the occasional Mary Sue, my heart belongs to the morally ambiguous protagonists.  Wasp is a great character, though she is made cynical by her world, she is still ultimately compassionate and good.  Told that she was chosen to be Archivist, Wasp has been denied an identity and companionship all her life.  I loved seeing her struggles with her self-loathing, her crisis of faith, and her yearning to trust and connect to another person.
COMPELLING PARTNERSHIPS
[The Ghost] had her back, and hadn't stabbed her in it. It was, to her, impossibly bizarre and impossibly beautiful in equal measure that such an arrangement could exist in the world.
When I realised the Ghost that Wasp discovers is male, I rolled my eyes a little.  However, what I got wasn't a senseless romance, it was a beautiful partnership between two people who have deep rooted trust issues.  The road to their partnership was no easy one, The Ghost has his own secrets – but more than that, his memories of his past life is fast fading and he tells an unreliable narrative. As much as this is Wasp's story of self-discovery, it also details the Ghost's quest for redemption.  I also loved that the Ghost's uncertain memories guided most of the story's development, because it allowed the book to surprise me multiple times.  It reminds me a bit of Code Name Verity in this way.
The whole mess made her think of stories, of Carrion Boy and his ally-enemy Ember Girl.  Each quested across a hundred songs and stories searching for the other, but the reasons for these searches- to trick, to slay, to rescue, or something in between – depended on the story.  The only constant was that each time They met, The met in collision that broke one against the other.
The partnership that stole my heart in this book is one that's never directly takes place in the present narrative: the one between The Ghost and Kit Foster, the companion he's been searching for.  I don't want to give too much away, because I think their story is one that is best discovered as you read through the book.  However, my favourite kind of relationships are the ones where two people takes turn to save one another – also to reaffirm and ground each other in reality.  This relationship definitely has that in the spades, the Ghost could not quite remember what made Kit so special to him – seeing their story through Wasp's eyes was heartbreaking.  Their story is part friendship, part betrayal, and deliciously bittersweet.
She had one eyebrow lifted, one corner of her mouth quirked, as though issuing a challenge to Wasp across the centuries: Find me, little-girl-with-a-knife. Find me if you can.
I also really enjoyed seeing how intrigue Wasp was by Kit Foster.  Though they have never met in person, in a lot of ways, Kit is the one character Wasp instinctively understands the most.  The two women believe in the same ideals, struggle with the same issues (again, the idea of keeping your identity, that crops up a lot in this book), and they dare to challenge a large, deep rooted system and ideas.  I thought among these two women, this book offers some of the most complex female protagonists I've read this year.
HAUNTING, GRITTY, DARK SETTING AND ATMOSPHERE
Close up, the bridge was made of trash.  Coins.  Stones. Shells. Keys. Birdskulls. Bits of glass. Bits of plastic. Bits of driftwood. Broken weapons. Dried flowers. Trinkets. Bullets. Leaves. Rings. And a thousand things Wasp didn't recognise.

"The dead build it together," said the ghost.  "From their pockets, from their coffin.  From their mouths and eyes."
The beautiful writing is evocative, from the way the bleak post-apocalyptic landscape – to the gorgeous haunted sceneries of the underworld.  The book also feature some unflinchingly dark scenes, I will not elaborate too much because this is the kind of book that is best enjoyed with as little information as possible.  There is plenty of cruelty in this fictional world, but also plenty of longing and beauty as well.
---
Archivist Wasp definitely needs more love, I have only seen two blogs reviewed it, and I am forever grateful they put the book onto my radar!  If you are looking for a unique, genre-defying, dark fantasy with complex characters, get this now!
Find me on:  TWITTER / GOODREADS / INSTAGRAM / BLOGLOVIN