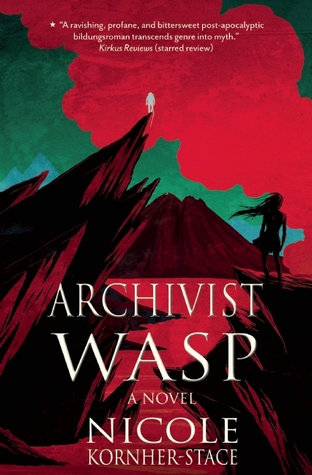 Title:  Archivist Wasp
Author:  Nicole Kornher-Stace
Series? No.
Ratings: 5/5
---
August has been a fantastic reading month for me thus far! Archivist Wasp was purchased because I saw The Book Smugglers, some of my most trusted book bloggers, gushing over it on their site. Equipped with a unique setting, beautiful writing and compelling characters, this book was sure to steal my heart.
A LAYERED & DEEPLY FLAWED PROTAGONIST
I am the Archivist.  Catchkeep's emissary, ambassador, and avatar on earth.  Her bones and stars my flesh; my flesh and bones Her stars.  Mine is the mouth through which the dead world speaks.  Mine are the hands that record what the dead world left behind.  Mine are the eyes that hold vigil, so that the old world's death does not return to kill the world anew.
Archivist Wasp has been serving as the Catchkeep's mortal emissary for three years.  She was not born into the role, Wasp had to kill the previous Archivist to attain this position.  Every year, Wasp has to fight and eliminate younger upstarts to keep her spot as Archivist.  It's kill or die, though Wasp has tried in vain to spare the upstarts who challenged her.
As Archivist, Wasp's primary function is to seek out, contain and record information on the many ghosts that inhabit her post-apocalyptic world.  None of the ghosts can speak, so many generations of Archivist have searched in vain for an answer to why The Before world has perished.  At the beginning of the book, Wasp encounters the first ghost in recorded history who can speak – and together they embark on a quest to the underworld. Continue reading "Book Review: Archivist Wasp" →