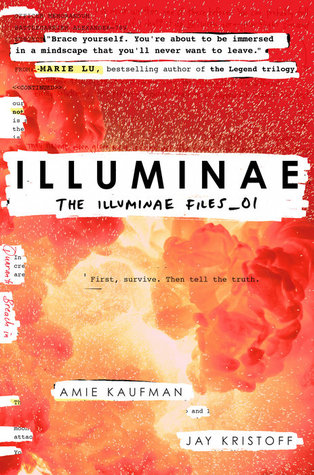 Title: Illuminae
Authors:  Amie Kaufman and Jay Kristoff
Series? Yes, 1 of 3
Rating: 3.5/5
---
No one is sadder than I am that I did not enjoy Illuminae. I have THREE copies of the book, mainly bought because I couldn't wait to get started! This is coming from a girl who never bothers to buy physical copies (my existence is held together by a Kindle).
I can't say it's a complete waste because the book itself is GORGEOUS. The designers and authors deserve much credit for tying the story together in such a visually stunning manner. Yet, that's about all the positives I have on Illuminae.
As you all know, Illuminae is a book surrounded by immense hype and built up by an army of ringing endorsements. By the end of BEA 2015, I was convinced 70% of bloggers in US have read the book, and they all seem to agree it's the best thing in fiction since Harry Potter.
In general, I'm 50-50 with popular books – I either lap it up and turn into a crazy fangirl along with the adoring public (see Six of Crows, or Throne of Glass from book 3 onwards) – or I just feel underwhelmed. Unfortunately, the latter happened here. I built up too much expectations, and what I got in return is a fairly standard YA scifi – complete with obligatory romance and sketchy world building. It sets itself apart by being brilliantly marketed and packaged, though I don't feel it's enough for me to award it more than 3.5 stars.
With science fiction, as with every other genre – what I look for as a reader is creativity plot wise. Illuminae did not introduce anything I haven't seen before, and it did not deal with any of the issues it raised in an interesting manner. Even the ending twist was more than a tad predictable. I also look for emotional weight and connection to the characters, both Ezra and Kady fell flat for me. I think this is largely due to the epistolary format of the book – I despise reading chat logs, especially ones littered with what's meant to be "teenage speak". I don't know any teens that chats like this – and I'm a freaking YA blogger!
Now, I won't pretend to be a fountain on knowledge on all things scifi. My knowledge of the genre is pretty piss poor, and the only instances in the genre that I love madly and unreservedly would be Battlestar Galactica and Douglas Adams (yes, I don't love Starwars, sue me). It means that I am not difficult to please. Yet, Illuminae lost me as an audience due to all the similarities it had to Battlestar Galactica – the book gave me several instances of deja vu. It's like the whole The Hunger Games VS Battle Royale all over again. I know the authors would not have directly copied the older material – but as a consumer of both, it's very hard for me to isolate the two or prevent myself from comparison. Here are just some of the similarities I found jarring (minor spoilers for both, obviously, so feel free to skip):
There were some similarities between the premise, but I brushed it aside because it's also the premise of every space opera ever. In BSG, the Cylon wipes out the ENTIRE human race, and the survivors scramble through space to evade Cylons and permanent extinction.  In Illuminae, an evil megaconglomerate wipes out an ENTIRE planet, and the survivors scramble through space to evade their attackers.
The Olympic Carrier in Battlestar Galactica (S1 Episode 1) VS Copernicus in Illuminae. In BSG, our heroes had to shoot down Olympic Carrier – a commercial civilian vessel – due to orders from their President: whether the ships had any human passengers was left ambiguous.  In Illuminae, Ezra and his team was told to shoot down Copernicus – a civilian vessel – due to orders from AIDAN: they were left wondering whether there's any civilians on the craft.
AIDAN is an artificial intelligence running the Alexander. It spews pseudo philosophical nonsense along with random techy gibberish at times.  The Hybrid is an artificial intelligence controlling the Cylon's basestars. It spews pseudo philosophical nonsense along with techy gibberish all the time.
After I noticed the main similarities, I just could not stop seeing even the minor stuff – like the countdown of number of survivors (at the beginning of every ep in BSG, and every 10 pages or so in Illuminae) – even the similar terminologies started bugging me, even though I know it's just common amongst scifi in general
So yes, I got supremely sidetracked by all the similarities, they just niggled at me throughout the book. I think I would have enjoyed Illuminae more if I haven't seen BSG.
The book was driven mainly be romance, and not even a good one. It did not help that I thought one of the main character is an idiot, while I had no attachment to the other. If I never have to see another 'teenage chat convo' again, it would be too soon. All the chats were a freaking pain to read through, I dearly wanted to skip them. Unfortunately, they were the ONLY place any actual character interaction took place, so I had to hang on tight in the hopes I would begin caring. In the end, I just got more annoyed. I thought Nicola Yoon did a fine job in Everything, Everything displaying a young couple falling in love via chat in her book. However, I don't think Ezra or Kady's relationship meant anything more to me than just a couple of words arranged into pretty pictures on a screen.
I did think that the second half of the book was a huge improvement from the first half, because of the relative disappearance of characters I found annoying. I think my favourite character in this book was AIDAN, and I liked the direction the story took with him – even though, again, it was nothing original.
The world building was paper thin in this book – I knew nothing about this universe, the world we saw was confined to chat screens and a couple of rooms in the spaceships. I don't know how ANYTHING on the vessel even works?! Or how large their world is? Or why in a universe with super intelligent AI and spaceships, we still had humans using primitive chats that were lesser than MSN messenger (I just really freaking hated the chats, ok).
If I didn't hear five months' worth of 'this book is the best ever', I think I would have judged Illuminae less harshly. Blame it on hype fatigue, but this book was one massive disappointment. Despite all the beautiful designs, Illuminae lacked plot or emotion that could hook me. I think I'll be giving its sequels a wide berth.