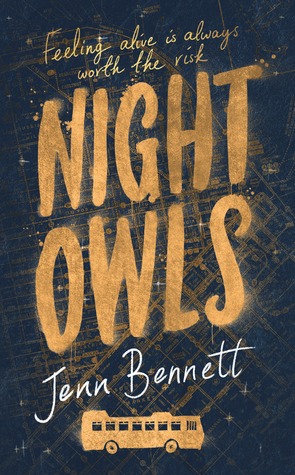 Title: Night Owls (US Title: The Anatomical Shape Of A Heart)
Author: Jenn Bennet
Series? No
Rating: 3/5
---
I received a copy of this book from Simon & Schuster Australia in exchange for an honest review.
My opinion of this book changed several times during the read. I alternated between thinking it was adorable and wanting to shake some sense into the characters. Ultimately, the ending of Night Owls placed firm importance on family and love, which means I parted with the book on a happy note.
I prefer the UK cover, but I like the US title better. I AM TORN.
The focus on arts!
You're no HB. You're like ten Prismacolours all at once.
Jenn Bennett mentioned in the author's note that she wanted to celebrate artists: not just the ones in museums and galleries – but every day people and their attempts at self expressions. Both our protagonists are very much defined by their passion for art – with Bex exploring human anatomy, while Jack practices beautiful yet illegal street art. I enjoyed that they both had an identity outside their mutual attraction, and that they found a kindred spirit in one another.

Families matter!
OK, so I feel like I say this a lot in my contemporary reviews now – so I don't think YA books deserve such a bad rep anymore with regards to family representation. I love seeing Bex's relationship with Heath and Katherine. They were slightly dysfunctional and a tad too quirky to be true, but their scenes were still heartwarming. However, the scenes that pulled at my heartstrings the most were with Jack and his family. Especially the ending, I loved it, it knocked the book's rating up by an entire star for me!
Positive Romantic Relationships
I want to call you every five minutes. I want to text you goodnight everynight. I want to make you laugh.
Both the relationship between Jack/Bex and Heath/Noah were sweet and mutually supportive. They met each other's parents, they had cute banter, no one was declaring love within the first two minutes of meeting one another!  I also liked the way sex was portrayed in this book, as an intimate part of a relationship that we shouldn't be ashamed of!  And Bex is more experienced than Jack?! Huzzah!
Lack of Research
There were a couple of things that threw me off. Fist, Jack's beautiful lashes was supposedly due to distichiasis – which the book describes as a condition where afflicted are blessed with beautiful double row of lashes. A short Google search would have revealed that this is NOT the case. Most lashes in distichiasis are short and stubby, and grows directly into the patient's eyeball, causing a lot of irritation, redness and pain. Basically, it's not sexy as it's made out in the book. Also, Jack's half hearted devotion to Buddhism, Zen, and the way he treated all the 'Japanese type' activities as something hip instead of another culture irked me.
Inauthentic Quirkiness
 I don't mind these character types when I can emotionally connect to them e.g. Theodore Finch of All The Bright Places. Yet, the characterisation of both Bex and Jack remains too shallow – they're just caricatures of what hipsters should be. I mean, Bex wears her hair in braids and wears has the whole dark rimmed glasses thing – she even characterise herself as the loner artist type. Jack on the other hand spouts half-baked philosophy, patronise Japanese teahouses, and wears Mala prayer beads. They do all of this un-ironically. They are freaking ludicrous.
The Dread Slutty Other-Girl Trope
Just when I'd abandoned my nightmare vision of Jack getting on with some hospital candy stripper, I could now replace it with the image of Sierra the Runaway sleeping in some sort of weird cultlike housing, where she met Jack and exchanged sexual favours for enlightenment and pluots.
Sierra for having the audacity to flirt with multiple guys at once. Bex said one line at the end of the book to try redeem herself on her judgemental ways – but it's too late, Bex, I had to listen to you complain about how 'salacious' Sierra is for two entire chapters. I am not forgetting it, nor am I forgiving this book for including such an unnecessary trope. Thankfully the book didn't dwell on Bex and her nasty thoughts about Sierra for too long – but I am allergic to this trope.
---
Overall, I would recommend Night Owls if you're looking for a sweet, fuzzy contemporary romance. There were some places where the book faltered for me, but it does have a lot of heart.