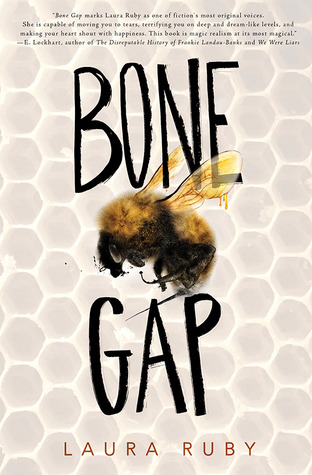 Title: Bone Gap
Author: Laura Ruby
Series? No.
Rating: 5/5
---
Bone Gap is modern fairy tale and magical realism at its finest. The book inspects the difference between the faces the world sees VS the people we are. The book also confronts how society views women: it's uncomfortable, at times it makes my skin crawl, but it's 100% necessary. READ THIS BOOK.
I am going to write part this review in a slightly different style than usual, inspired by the strange writing prompts that Petey and Finn trades throughout the book.  I hope I do the book justice! But if this part is too odd for you, feel free to skip down to the main review below!
Describe BONE GAP using only adverbs.
Loftily. Delicately. Mysteriously. Stealthily. Touchingly. Subtly. Violently. Bravely. Remarkably. Hopefully.
Compose a haiku in honour of BONE GAP.
Corn whispers, bees buzz,
Girls, some beautiful, some not
Men looks on, blindly.
Describe the plot of BONE GAP in recipe format
I. Separate 1 girl from 2 boys. Make sure no one quite knows how.
II. Leave 1 girl to stand, trapped in a prison guarded by 1 man, 1 beast, and a pinch of misogyny
III.  Take another girl, queen of bees: ensure she has more sting than honey: combine her with 1 boy.
IV.  Marinate the remaining boy in 1 teaspon of anger, 1 teaspoon of guilt, and a heap of insecurity.
V.  Mix in a magical steed, a beast, a dash of casual cruelty, a twist on reality.
VI.  Avoid contaminating the mixture with love polygons and conventional plots.
VII. Serve with a fresh dose of perspective, accompanied by beautiful words.
Compose a poem using only quotes from BONE GAP
dozens of honeybees whirled like tiny moons in a orbit,
gaps just wide enough for people to slip through,
leaving only their stories behind,
you can't save her now,
there is nothing left to lose,
here, here, here
Write a short story using only the Chapter Titles in BONE GAP
The People of Bone Gap. No One Is Fine. Just Like The Rest Of Us. Lost The Lamb. The Nightmare Slaughter. Get Real. Run. Jump. Showdown.
---
OK, I had fun with that, but if that was too weird for you guys, here's the regular text review:
The girl they loved most – and knew least of all – was gone.
When the beautiful Roza goes missing, the previously sleepy town of Bone Gap is lights up with speculations and half-hearted gossip.  Only Finn witnessed her kidnapping, though he is at a loss in describing her captors.  The town scrutinises him, the boy who was always dismissed as spacey, and questions his involvement.  His brother, Sean, in love with Roza but too cowardly to go after her, having been abandoned once too many times.
The narration mainly follows Finn and Roza in alternate chapter.  We see Finn as he's navigating life after the kidnap, trying to piece the mystery together despite the mistrust from the people of Bone Gap.  I love the uncertainty that shadows not only the mystery, but also the puzzle that is Finn. While we see things from his perspective, some things do not fit together quite right – though to tell you more would be a terrible spoiler. The reveal is wonderful and completely unexpected, a delightful mixture of both fantasy and real scientific facts.
"Why do you want me?"
"Why? Because you are beautiful."
"There are a lot of beautiful women"
"You are the most beautiful."
She didn't cry. She said, "That's not who I am."
Although Finn's chapters were a joy, I love Roza's chapters even more.  She is trapped by a madman who's so terrible, he resembles the monsters of old fairy tales and myths. Why? Because she is beautiful. Her chapter narrates her life, a series of mishaps and gross violations perpetrated by men who views her as an object to be possessed.  Nonetheless, she never loses her determination or her fire. I love Roza's intense sense of self-identity, despite the labels people have tried putting on her.  I also adored that she never lost her capacity for love or trust, regardless of the hardship and uncomfortable situations she's had to face. She is a damsel who is capable of saving herself, and would totally bake you a batch of cookies after all of her heroics (if she decides you're worthy). In short: Roza is freaking awesome!
As much as the people of Bone Gap forgot her name, they wouldn't stop reminding her of her face.
On the other side of the coin, we have Petey, an equally fascinating and complex female protagonist.  Petey has been told by girls to wear more make up, she's been told by boys to wear a paper bag, she's told by her mother that she will eventually find love – despite her appearance.  She's viewed by Bone Gap as a girl so desperate for love, she would throw herself at any guy thrown her way.  When Finn approaches her and they start an all consuming, passionate, relationship – the commentary from other people are too much to bear:  How could a beautiful boy be with an ugly girl? I love seeing Petey's strength, but also her insecurities. My heart ached for her, but through it all – she remained a regal queen bee in every sense.
"People look, they don't see."
I loved the lyrical prose and the fairy tale like quality of the writing. However, what I loved most of all is the questions that Bone Gap poses.  The ones about our identity VS the way people perceive us. Of the role of women in society, and the beautiful characters who defy the patriarchy.  We are not the sum of our appearances, of what total strangers – or even loved ones- have to say about us. I think everyone will get something different out of Bone Gap, depending on their views on these questions. In any case, if the review has not made it abundantly clear, I recommend this book to EVERYONE. Young, old, male, female, sighted, blind, whatever.  Go read it, you can thank me later!