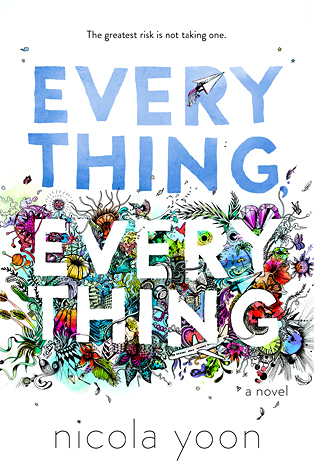 Title: Everything, Everything
Author: Nicola Yoon
Series? No.
Rating: 4/5
---
Disclaimer:  I received a digital copy of this book via Penguin Random House & Netgalley in exchange for an honest review.
SPOILER ALERT: It only takes one heartfelt book to change your opinion on an entire genre.
"You can't predict the future. It turns out that you can't predict the past either. Time moves in both directions – forward and backward – and what happens here and now changes them both."
I usually dismiss YA Contemporary as a genre I won't ever be interested in, previously writing it off as fiction which relied on angst rather than creative worldbuilding to carry the plot.  If I'm going to read fiction, I want wizards, faeries, shapeshifters, otherworldly settings, protagonists that will save the world… the whole shebang!  Then Everything, Everything came along and crumbled my preconceived notions about the genre, proving that there's a real magic in everyday experiences, too. The book follows Madeline, a girl who's allergic to everything.  Her only remaining family is her mother, who's loving but overprotective. Consequentially, Madeline's literally been locked inside her home for most of her life, the only people she interacts with are her mother, her nurse and her tutor.  Despite this, she remains content with her palindromic life until a boy (it's always a boy!) and his family moves in next door.
Really there's only one thing to wish for — a magical cure that will allow me to run free outside like a wild animal, but I never make that wish because it's impossible. It's like wishing that mermaid and dragons and unicorns were real. Instead I wish for something more likely than a cure. Something less likely to make us both sad. "World peace," I say.
---
Nicola Yoon's writing is fantastic, especially considering that this is her debut novel.  Her prose flowed in an effortless way, and her observations on the everyday joy that eludes Madeline are beautifully poignant.  The book is also charming in the way which it's littered with pictures, Madeline's book reviews and instant messages log. However, I thought the development of Olly and Madeline's relationship was too quick, as in its initial stages all we had to go by were excerpts of these brief message logs.  However, reading this book made me quite cheerful so I was ready to forgive this relative lack of relationship development.
How am I supposed to go back to being The Girl Who reads?  Not that I begrudge my life in books.  All I know about the world I've learned from them. But a description of a tree is not a tree, a thousand paper kisses will never equal to the feel of Olly's lips against mine.
I also appreciated the development of Madeline's character and her growing curiosity about this world that healthy, normal people take for granted.  For someone who was always satisfied with her lot in life, seeing Olly and the world that she was missing: friends, school, Maui, first loves… all amounted to an existential crisis which felt authentic.  However, her solution to his dilemma is just so farfetched and unbelievable, my mouth was left agaped during the last third of the book. Everyone in the book just became so irresponsible, it made me wonder how any of these health professional kept their practising license? I work in the healthy industry, so the treatment of Madeline's illness really bothered me.  All my knowledge of the immune system and pathology was going haywire trying to make any sense of the event that unfolded. However, it was all saved by a killer plot twist, which turned a previous light and fluffy read to a story about domestic abuse: both in physical and mental sense. The ending left me a bit conflicted about the book, hence 4 instead of 5 stars.
In two weeks my skin will have no memory of Olly's hand on mine, but my brain will remember.  We can have immortality or the memory of touch, but we can't have both.
The last third of the book here is really the clincher on whether you'll enjoy it or not, so when you decide to pick this up, make sure to read 'til the very end!  I thought that despite its flaws, this is a book with a large heart, great prose, and at the end of it a worthwhile message about living your life to the fullest.  I would definitely recommend it to all those reluctant to try out contemporary fiction.