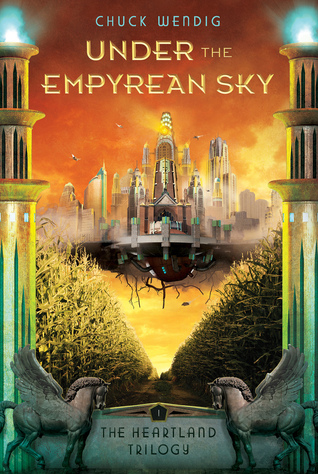 Title:  Under the Empyrean Sky
Author:  Chuck Wendig
Series? Yes, 1 of 3.
Rating: 3/5
---
I received a copy of this book from Netgalley + Skyscape in exchange for an honest review.
I had such a hard time writing this review, as this book fell victim to my dystopia burnout (I thought Red Rising cured me, oops).  I really wanted to like this book because i) I like reading the author's blog and ii) these covers are freaking amazing (yes, judge away!).  Alas, I didn't love or hate it – I felt plain meh.
The setting was my favourite part of this book. Set in a futuristic world where mutant corn have taken over the Earth and is the only crop the people of the Heartland can sow.  Above them lives the Empyrean in their floatilla, who has access to luxuries and rigorously control the planting of crops and the distribution of wealth.  It reminded me a bit of Interstellar, one of my favourite movies last year, where the Earth could only sustain okra and corn.
As with all dystopia, we get to see elements of the oppressor and the oppressed. Heartlanders live in poverty under the Empyrean sky (points for using the title!).  Not only are they starving and malnourished, many of their kinds also suffer from an advanced form of cancer, hinted as a side effect from consumption of genetically modified corn.  There's also the Blight, a creepy mutation that reminds me a little of The Wood's effect in Uprooted. Continue reading "Review: Under The Empyrean Sky" →