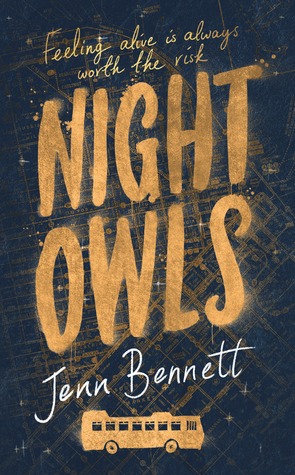 Title: Night Owls (US Title: The Anatomical Shape Of A Heart)
Author: Jenn Bennet
Series? No
Rating: 3/5
---
I received a copy of this book from Simon & Schuster Australia in exchange for an honest review.
My opinion of this book changed several times during the read. I alternated between thinking it was adorable and wanting to shake some sense into the characters. Ultimately, the ending of Night Owls placed firm importance on family and love, which means I parted with the book on a happy note.
I prefer the UK cover, but I like the US title better. I AM TORN.
The focus on arts!
You're no HB. You're like ten Prismacolours all at once.
Jenn Bennett mentioned in the author's note that she wanted to celebrate artists: not just the ones in museums and galleries – but every day people and their attempts at self expressions. Both our protagonists are very much defined by their passion for art – with Bex exploring human anatomy, while Jack practices beautiful yet illegal street art. I enjoyed that they both had an identity outside their mutual attraction, and that they found a kindred spirit in one another.
Continue reading "Book Review: Night Owls" →