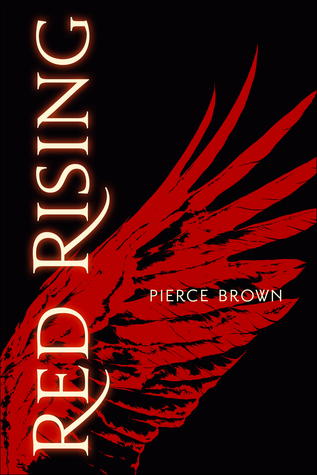 Title:  Red Rising
Author: Pierce Brown
Series:  Yes, 1 of 3
Ratings:  My heart says 5! My brain says 3!
The review format is going to be a bit different for this post.  I'm experimenting on what to do when I feel so conflicted about a book.
I read Red Rising by Pierce Brown earlier on in the week and it's pretty much consumed my brain.  As we speak, I still have 50% of Golden Son left to devour, but I am a tiny bit hesitant to finish it off, as it's a cruel 5 months wait until Morning Sun comes out!
Anyway, I can't give a rating for this book, my heart says ALL OF THE STARS but my brain says 3.  I am aware there are some issues with the series, issues that makes my book-loyalty divided when I think of them, I'll include my thoughts on those at the bottom of the post. But first I just want to tell you 5 reasons why you need to read it ASAP!
---
1.  Strong Worldbuilding
"Men are not created equal; we all know this. There are averages. There are outliers. There are the ugly. There are the beautiful. This would not be if we were all equal. A Red can no more command a starship than a Green can serve as a doctor!"
We have a mix of scifi and dystopia here:  Space, a government that spans the solar system, castes.  Yes, I know, caste system isn't a novel idea – people at the top will always try to make deify themselves. The one in Red Rising at least makes sense: it works seamlessly in the Gold's favour.  One of the key to a great leadership is to delegate all of the shitty tasks and to make your underlings believe they are working towards a better world:  their toils are all for Society, for mankind.  Whether it's the Blues who are genetically modified to control spaceships, to the Pinks who are specifically designed to grant sexual pleasure: everyone believes that their purpose is to serve: a cog in the wheel.  It's the perfect lie, the slaves do not realise they are enslaved, and the foundation of this lie is built on the unwitting sacrifice of the Reds.  The Reds, a caste of miners who still believes after almost a millenia that they are the pioneers: the first ones on Mars.  They have faith that by doing dangerous work, they're paving the way for a new generation – little do they know that they have no future.