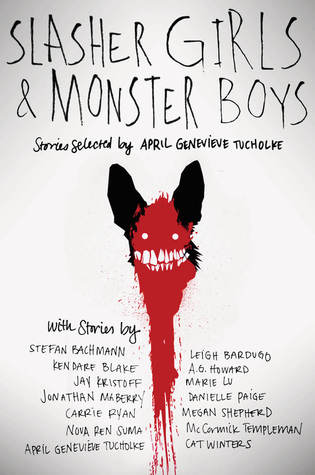 Title: Slasher Girls and Monster Boys
Authors: Various
Series? No. Anthology
Rating: 4/5 stars
---
I started reading this around Halloween season, but only got around to finishing up the review for it now. Oops. The anthology was very strong, and it reminded me why I love the economy of short stories. An amalgation of some of the best voices in YA at the moment, the stories in here are all based on a novel, movie, or other creative work in the past. I had a lot of fun trying to figure out the origin story of these works.
The Birds of Azalea Street by Nova Ren Suma – 4 stars
I felt this tale was a strong start to the anthology, it was not outright scary, but certainly incredibly unsettling. In classic Nova Ren Suma style, this tale edges on reality and the unknown – with the ill-intentions of the living being far more upsetting than those of the dead. Written in her familiar lyrical style, this tale examines teenage girls in both their strengths and vulnerability when faced with a sexual predator. You'll look twice at the birds outside your window in a different light after reading this.
In The Forest Dark and Deep by Carrie Ryan – 5 stars
I've previously read The Forest of Hands and teeth by Carrie Ryan, and thought her writing would be perfect for horror. This tale proves my hunch correct, it was amongst my favourite in this anthology. The story alternates between the events happening to a wide-eyed 7-year old girl and her teenage self. It takes Alice in Wonderland and turns it on its head, delivering a dark and gory psychological fare that's definitely NOT for the squeamish. Who knew imageries of tea-parties and March Hares could be so terrifying?
Emmeline by Cat Winters – 3 stars
While I enjoyed my first taste of Cat Winter's work, I felt this story didn't fit the mood of the rest of the anthology. It's a sad historical about a lonely girl and a curious soldier in World War II. Most of the stories in this book unsettled me, yet this one made me feel the regret and nostalgia of innocence lost. The writing was very strong, though, and I look forward to reading more of Cat Winters' work in the future.
Verse Chorus Verse by Leigh Bardugo – 4 stars
I am fast becoming a rabid fan of Leigh Bardugo's writing, her fantasy series are incredibly engaging – and this short story proves she can pen psychological horror with the same ease. Firstly, the tale looks at the toxic side of fame as we follow a young starlet and her ambitious mother. Underneath the surface of superficial fears about tabloid headings and bad PR, there lies a more sinister tale about a literal monster. I admit to not quite understanding the ending, but hey, it's horror – the point is not knowing.
Hide and Seek by Megan Shepherd – 2.5 stars
Although this was not a bad story by any means, I felt it was quite predictable – which is a cardinal sin as far as horror is concerned. Centred around a dying girl and her gamble with Death, the story was filled with cliche and the expected. I did enjoy the fast-paced writing, but the story was ultimately forgettable. I know that all the stories in this book were inspired by some previous literary fiction, I think this one took its interpretation too literally.
The Dark, Scary Parts and All by Danielle Paige – 2 stars
It's a shame that the two weakest stories in the book were positioned right next to each other. Featuring high school drama, mean girls, and a poor, bullied heroine rescued by a gorgeous young man – the story is filled with tropes. The slight sinister turn in the tale was not enough for it to shine, I found the ending quite jarring and forced.
The Flicker, The Fingers, The Beat, The Sigh by April Genevieve Tucholke – 4.5 stars
Another one of my favourites in the anthology, taking its inspirations from urban legends, obscure mythology and two very popular summer blockbusters. I found the writing engaging, and liked the familiar yet estranged feeling I got while reading this. The mood was deeply atmospheric and unsettling. I also had a great time trying to identify all the references in this particular gem.
Fat Girl With A Knife – Jonathan Maberry – 3 stars
The protagonist of this particular story is the boldest and most memorable of the bunch. I loved her pragmatism and off-kilter sense of humour. However, the horror aspect of the tale falls short – it's quite a standard gory slasher that held very little suspense.
Sleepless by Jay Kristoff – 5 stars
I have finally found a Jay Kristoff book I enjoy, praise the lord! Honestly though, I found this story immensely satisfying and it's amongst the top 3 in this book. I loved the slow unraveling of the mystery around this particular tale – which follows a boy trapped between his filial duties to an ailing mother and his internet romance. The story takes several sinister and disturbing twist, I loved it despite having to put up with dreaded chat-speak.
M by Stefan Bachmann – 3 stars
Presented in a historical setting, this particular tale was more a sordid thriller rather than a horror. I liked the focus on children's rhymes, and how children or the vision impaired often see with more clarity than most adult. Although the story was incredibly rich in sensory details and atmospheric, its uninspired ending lets it down.
The Girl Without A Face by Marie Lu – 4.5 stars
I recently fell in love with Marie Lu after reading The Young Elites, so I was happy to see her story in this collection. Told in her characteristic clipped yet image heavy writing, the story was a success. It's about skeletons in the closet, both literal and figurative. The image of the girl with no face still haunts me, weeks after I first read the tale. I also liked its unsettling ending!
A Girl Who Dreamed of Snow by McCormick Templeman – 1.5 stars
This was quite an unmemorable story, despite the immense potential of its setting. For a tale about a cruel world where girls are poached and traded, it failed to leave a mark. I vaguely remember an exchange between a girl, a boy, and a boy who thought he was a man – but really, I've already forgotten it.
Stitches by A. G. Howard  – 5 stars
Another favourite of mine, and a tale filled with violence of all kind: domestic abuse, loss of limbs, impossible medical procedures. We start with a girl sawing off her father's foot in exchange for money and limbs, along with a promise that he will become a better person at the end of the procedures. The story only gets better from this promising start – filled with numerous twists and turns, remaining utterly horrifying the whole way through.
On the I-5 by Kendare Blake – 4 stars
It feels fitting that we should start the collection with teenage girls finding power against their abuser, and end the collection with another story of the same vein. Set in one of those rest stops that seems to dominate American road trips (especially the ones in horror movies) – it documents a girl on a quest for twisted justice. While I found the writing could use some polishing, thematically, it worked incredibly well.
---
Do you like anthologies? What was your favourite Halloween read?