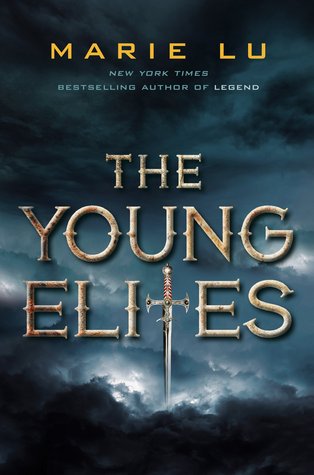 Title: The Young Elites
Author: Marie Lu
Rating: 4/5 stars
Series? Yes. 1 of 3.
---
It feels like quite some time since my last young adult fantasy, and THE YOUNG ELITES certainly hits the spot. The book gets it right with its complex cast of characters and steady momentum. Although I wish the world building was more expansive, and that we got to see more facets to Adelina's characters – it was still a promising start to a new series.
"Some hate us, think us outlaws to hang at the gallows. Some fear us, think us demons to burn at the stake. Some worship us, think us children of the gods. But all know us. —Unknown source on the Young Elites"
I felt The Young Elites played with a lot of common YA tropes, and while it successfully subverted some of them with finesse – it also stumbled on others.
The Special Chosen Ones
"I am tired of being used, hurt, and cast aside. It is my turn to use. My turn to hurt."
In The Young Elites, a small portion of the population has been decimated and forever changed by a blood fever several years ago. It left the survivors marked by those special Mary Sue physical traits: hair in strands of sapphire and red, colourful skin disfigurement, impossible eye colours, or in Adelina's case: a cascade of silver hair. While in other fantasy novels, these traits may be viewed as desirable or physically attractive. In The Young Elites – the cursed are named malfettos. They are marginalised and feared. The fever also gifted a smaller portion of its survivors with special abilities: whether it's to call upon wind or weave illusions.
"Everyone has darkness inside them, however hidden."
While the superpowers might sound awesome, our heroine's manifestation of powers come at a price. Instead of being propheted to be the chosen one, destined to bring down despotic regime and rulers – Adelina's ability ties her to darkness and chaos. Of all the energy in this world, she has the strongest affinity for fear and fury. Whenever Adelina exercises her powers, she is enhanced by these emotions – while at the same time being consumed by them. She's certainly no plucky, winsome heroine that stumbles upon her destiny. Adelina's path is muddled, and while I would hesitate to call her villainous – she's certainly more complex than your garden variety main character. Yet, Adelina still played at the confused, uncertain and angsty teenager throughout most of the book. I felt she never reached her potential as a character. I hope to see her embrace the darkness more thoroughly in The Rose Society.
Absent Love Triangle
"No one wants you to be yourself. They want you to be the version of yourself that they like."
You know how it is with YA paranormal and fantasy, I have come to expect romantic polygons as a part of the deal. Thus, when Adelina is introduced to Enzo with 'eyes as dark as night', and Raffaele – who's beauty is likened to the moon – I braced myself for the love triangle. Mercifully, it never came. Raffaele reminds a confidant to both Enzo and Adelina, and if anything – he has more romantic chemistry with Enzo (I totally ship them *ahem*).
I love Raffaele's character, who despite being physically weaker and the prettiest of the bunch – still holds a lot of power due to his ability to manipulate emotions. He's certainly someone I wish to see more of in the sequel. It was so refreshing to see his relationship with Adelina, as not many male-female friendships in YA remains entirely platonic the whole way through.
"How many times have you been called an abomination?" he whispers. "A monster? Worthless?"
Too many times."
On the other hand, I wish we got to see more of Enzo and his fire. I figured Enzo was kept at an emotional distance on purpose, due to later events in the book – but I wish we got to see more of his personal motivations. His character consisted of a lot of smoldering and posturing, and while he got some 'back story' in the form of a dead former lover (urgh, don't you hate that trope?) – we never saw much of his more human side. I felt that I could not connect to the rest of the Dagger Society either, again, this is because they held Adelina at arm's length. Yet, I love crews and banters and I wanted more!
Complex Familial Relationships
Through the whirlwind, I hear my father's harsh whisper.
I know who you really are. Who will ever want you, Adelina?
One of my favourite aspect of The Young Elites is the relationship Adelina has with her father and her sister. Her father is a real piece of work, at once sadistic and manipulative – he's personally responsible for twisting Adelina's mind. However, I liked that the book wasn't entirely clear cut with Adelina's feelings for him – while she despised him for his cruelty, she also yearned for his approval, even long after his death. I also really liked the conflicted feelings Adelina had for her sister, who unlike Adelina was cherished all her life. Their relationships reminded me of the one between Nyx and her sibling in Cruel Beauty.
World Building Falls Short Of Potential
While I enjoyed to pseudo-Italian Renaissance setting we had in The Young Elites, the world building was incredibly shallow. We are told there are numerous nations, yet there's no distinct marks between them. Actually, I can barely tell you the names of the the different kingdoms, that's how bland and homogenous they were. On the other hand, the wider conflicts presented between the malfetto and the 'normal' citizens made for an interesting larger plot – and I can't wait to see more of it in the future.
---
Overall, The Young Elites is a great start to a dark fantasy series. I feel that the world still needs to find its feet and develop both the settings and its characters to their full potential. I will definitely be checking out The Rose Society in the near future.