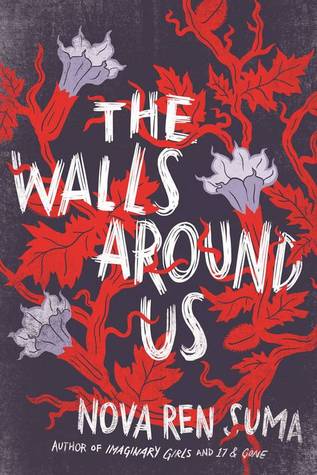 Title: The Walls Around Us
Author: Nova Ren Suma
Rating: 4/5 stars
Series? No.
---
My Halloween reading continues! While some of this book was confusing, I adored the suspenseful writing and the constant mystery which shrouded the story.
BALLET DRAMA:
For Ori, dancing came naturally, without a nervous stomach or worries she'd forget the steps. She danced like it was meant to be, in a way that couldn't be copied, no matter how carefully I watched her move, mirroring my body after hers and trying to get my limbs to loosen up and act more free.
Although I don't watch ballet in real life, previous consumption of the manga Swan and along with the movie Black Swan – has turned me into an ardent fangirl of ballet related drama. Violet, one of the narrator in this book, is one such competitive ballerina. I love the contrast between the beautiful, pink dancers with the darkness behind the curtains. From the get-go, we get a sense of Violet's obsession with her art, along with hidden layers about jealousy, bullying, and a bloody homicide or two. Violet is not a protagonist you could root for, but she makes for a fascinating narrator – filled with envy, paranoia, and a frustrating tendency to victimise herself in every situation.
ORANGE IS THE NEW BLACK – WITH TEEN GIRLS:
We were gasoline rushing for a lit match. We were bared teeth. Balled fists. A stampede of slick feet.
Okay, that subheading is a terrible pitch. I promise it's better than it sounds. Amber is the second narrator – and she's been in Aurora Juvenile Detention Centre ever since she was 14. From her point of view, we see another side to cliques and power pyramids. While the battles in the world of ballets are fought with perfect routines, lead roles, and snide remarks – the conflicts in the Aurora are both physical and mental. I really enjoyed reading Amber's observations on her fellow inmates, and how she details their personalities or tics. Amber also made for a delightful narrator because of the numerous mysteries involving her – what did she do to end up at Aurora? Is she innocent? Could anyone possibly be innocent? There are also some interesting commentary made regarding racism and the flawed justice system through her narration.
UNRELIABLE NARRATORS, INTERTWINING STORYLINES:
We were gasoline rushing for a lit match. We were bared teeth. Balled fists. A stampede of slick feet
Knowing there's an unreliable narrator usually takes the punch out of potential plot twists – yet The Walls Around Us kept me guessing constantly. Due to the nature of the story lines, I could never be sure whether our narrators were lying, or if they suffered from delusions of their own. The two point of views in the novel was expertly interwove through Ori: a ballet prodigy and kind-hearted girl who allegedly murdered two fellow students in cold blood. Ori was the light in both Amber and Violet's narration, yet with the cryptic deaths hovering over her shoulders, she remains an enigma. While the writing did an excellent job on establishing characters and mood, the plot continually revealed just enough information to make us want more – yet not enough for us to have a definite answer until the very end.
THE ENDING:
Our private taste in books showed a hint of our secret selves, and sometimes I was the only one who got to see those secrets.
Soon after I finished this book, I took to Twitter to seek for help deciphering the ending. Thank you Claire for coming to my rescue! While I enjoyed the bold direction the author took the ending, I also felt that the climax was confusing and jarring to the tone of the rest of the book. Nonetheless, I am still seized with the need to go and reread The Walls Around Us, as I feel it's one of those books that would feel completely different the second time around.
---
If you have a recommendation for unreliable narrators, I would love to hear it!  Have you read this one? Or do you like twisted ballet psychological drama? Tell me in the comments ❤