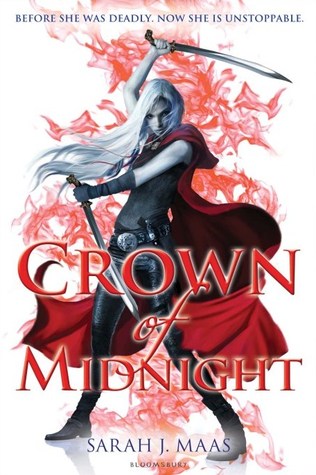 Title: Crown of Midnight
Author: Sarah J Maas
Rating: 4/5
Series? Yes, 2 of 6!
---
Well, this is super awkward because the last time I mentioned Throne of Glass in a blog post, it was to rail on how disappointed I was.  I marathoned the next 3 books over the last 2 weeks and let me eat my words. Never judge a series by its first books, guys. I am a verified fangirl of Celaena & co. In fact, I declare this week to be THRONE OF GLASS WEEK! on the blog 😀
Let be rave on about the ways in which Crown of Midnight was superior in EVERY way to Throne of Glass.
1. No More Pesky Exclamation Marks!
One of the things that really put me off Throne of Glass was the excessive use of exclamation marks. There are none to be seen in Crown of Midnight – already a marked improvement. This also meant that Celaena's voice was a lot more enjoyable in this book, I felt that she was a little childish in Throne of Glass (I know it still sounds like I'm dissing the series, but trust me, it gets better).
2.  Meatier Plot, Less Ambling
"Then Celaena and the King of Adarlan smiled at each other, and it was the most terrifying thing Dorian had ever seen."
I am glad to see the plot solidify in this instalment, working towards a greater scheme and grander conflicts. I love epic fantasy for its ability to span across years and continents in the name of storytelling, as Crown of Midnight veers the series into more comfortable territory for me plot-wise, you an imagine my glee. The world building is more fleshed out as we get more details of kingdoms aside from Adarlan, we also get more entrenched in magic as the story progresses.  There are also glimpses at goddesses and faes, basically all that fantasy good stuff that turns me into a fangirl with ready ears.
3. Turned Me Into A Celaena Fan!
"To escape death, she'd become death."
I'll admit, I was completely bewildered and confused by the Celaena love in fandom – I thought she did very little to earn it in Throne of Glass. However, in Crown of Midnight she gets a bit more agency and starts driving the plot forward in her own way, which goes miles into making me love her. I am exposed to her fierce protectiveness (something you only tend to see in male characters in YA, to have it be the defining characteristic of a female character? AWESOME). I can see more of her layers, on how Celaena is one persona she puts up in order to survive. We get to see the first conflict in what will become a long journey of self-discovery in later books. Celaena's also unflinchingly gray morally, she does some truly horrific and despicable things in the book – but I get her reasonings, I still root for her. Plus she looks fabulous no matter what she does, there's a woman after my own heart, right there.
4.  More Complex Relationships
"It was like coming home or being born or suddenly finding an entire half of herself that had been missing."
I love romance, but I can't handle it when a love triangle appears to take centre stage. Thankfully, while Crown of Midnight had a romance between Celaena and Chaol that was pretty much burning up my pages with chemistry – it also had a lot of other relationships going for it.  There's her beautiful and heartwrenching friendship with Nehemia (which, I don't even want to talk about anymore). There's her complicated relationship with the past, which we get tantalising hints about in this book.  There's also the complicated layers to her relationship with Chaol, torn as they are between loyalty and love.  Although I can't say I'm a fan of the Chaolena ship (my ship arrives in the next book, for those who have not seen me froth at the mouth all over twitter), I do appreciate their link a whole lot more in Crown of Midnight.
5. ACTUAL ASSASSINATING!
YES! Celaena Sardothien lives up to her name: the most lethal Assassin in Adarlan. I was legit scared of her at some points in this book. I could finally see the light as to why the characters were all waxing poetic about her in Throne of Glass. I also enjoyed that while she is a formidable fighter, she is not all powerful. There's just enough vulnerability here to temper her various traits to help her veer from Mary Sue territory.
Have you ever changed your opinion on a series part way through?
Anyway, I will be posting my review of Heir of Fire, Queen of Shadows, and some graphics later on this week! Keep an eye out 😀