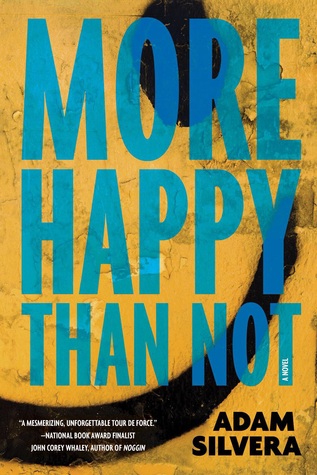 Title: More Happy Than Not
Author: Adam Silvera
Rating: 5/5 stars
Series? No
---
This movie is total bullshit. It's supposed to be funny and the only thing I'm laughing at is how the studio managed to disguise an uncomfortably dark movie as a summer comedy.
Rashika recommended this book, because she is
feasts on the tears of innocents.  Do not let the title fool you, this book will eat your happiness for breakfast and you'll be crawling back wanting more. This review is going to be really hard for me to write because I'm still a puddle of feels, so please excuse my belligerent ramblings.
This chart is the work of a madman who wants his happy ending; I should imitate his insanity.
In a lot of ways, More Happy Than Not is focused on the pursuit of happiness in a devastatingly indifferent and cruel world. We meet Aaron Soto, a teenager living in the Bronx who's struggling with the suicide of his father and his family's poverty.  Though we get told that Aaron has had his own brush with suicidal thoughts, for the most parts, he tries to live his life positively.  He has a supportive and loving girlfriend in Genevieve, their relationship is wonderful and will make you smile.  He has a group of long time friends, and while they're not entirely trustworthy, they are ready company. He also has his mother and brother, though their presence is peripheral for most of the book,  Aaron lives day by day, striving for contentment and mostly satisfies himself with thoughts of Genevieve.  Then comes Thomas, a bright spark of a boy who lives life on his own terms.  Their meeting turns this book and its plot on its head.
This is how Thomas lives his life, one misfired dream after the other. That journey may stretch for a lifetime, but even if he doesn't discover that spark until he's an old man, Thomas will die with wrinkles he earned and a smile on his face.
It's little wonder that Aaron was drawn to Thomas from the get-go. For someone who's been learning how to be happy, Thomas's no-nonsense approach to life must have shone like one of those mating fireflies Genevieve spoke about.  Thomas tells thing as it is, and while he has a slightly flakey approach to life, he never compromises on his own satisfaction. Aaron, who struggles to please everyone and anyone around him, could have learned a few lessons from Thomas.  As the two begins to spend more time together, we see a beautiful friendship fleshing out.  I came to love both of these characters for their complexities and all the layers in their interactions.  I really enjoyed seeing Aaron slowly coming to terms with his feelings and facing decisions that would dictate his future happiness front on.  Is happiness achieved by pursuing your own desires? Or is it in playing out the perfect life as your family and friends have imagined it?  Why is happiness so damn difficult and elusive anyway? I love the questions that Aaron and Thomas's relationship started to pose, I also loved the realistic portrayal of this relationship and the implications of Aaron's sexuality.
"I'm the liar, not him. I lied to Genevieve, to my friends, to everyone. But I've pushed my limit and here's the truth: this is the most painfully confusing time in life and he's the first person who said all the right words to me and reminds me of the first days of summer where you leave home without jacket, and my favorite songs playing over and over.
Another thing the book confronts is the lies we tell each other and ourselves. The lies about how some things are not worth remembering. The lies about science overruling nature.  Adam Silvera ingeniously incorporated these themes into the book with a slight science fiction twist.  In this universe, you can undergo the Leteo procedure, a memory modification that could wipe out anything that could make a charmed and happy life difficult:  cheating partners, dead siblings, ex-lovers, lost children, and the heavy weight of guilt.  The book questions whether you can really escape your identity, and whether you'll be truly better off without all the 'rough edges' in your life.  It never gives you a clear answer either way, but that's what makes it so beautiful (AND FRUSTRATING, AND TEARS *SOBS*)
---
I apologise for this incredibly vague review, but I think it's one of those books that's best enjoyed with as little information as possible.  Just dive in blind, bring along some tissues, and come back to commiserate in misery and awe and love with me when you are done.
Seriously one of the best contemporary books I have read, ever. I am still thinking about it, an entire week after reading the last page.  It had amazing characters that makes you weep, beautiful writing, and it confronts oft-seen topics in a fresh and complex way.  READ IT.