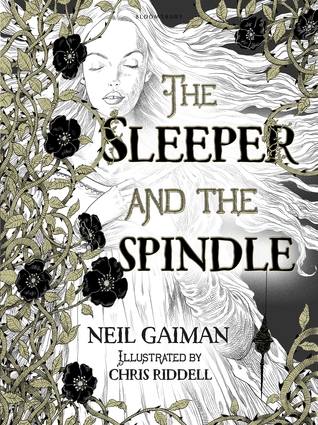 Title: The Sleeper and The Spindle
Author: Neil Gaiman
Illustrator: Chris Riddell
Series? No.
Rating: 5/5
---
The Sleeper and The Spindle was everything I wanted and more. Filled with breathtaking illustrations by Chris Riddell with luxurious gold detailings – along with Neil Gaiman's masterful and lyrical writing; it's a definite winner.
At 66 pages, it's a bit tough for me to review this beauty, so I'll let you determine whether you should purchase the book based on the questions below. If any of these questions have ever crossed your mind after reading a fairy tale, you need this book!

"A week from today, I shall be married."

It seemed both unlikely and extremely final. She wondered how she would feel to be a married woman. It would be the end of her life, she decided, if life was a time of choices.
Ever wondered what happened to Snow White after she was woke from her slumber? Was she grateful for the prince, or did she really have no choice in the matter? The Queen that Neil Gaiman and Chris Riddell illustrate is filled with misgivings about her upcoming marriage. She's not content to be bound to a life of domestic servitude (the lady has spent long enough sweeping and cleaning after seven dwarfs, after all) – she's going to embark on an adventure to save a damsel from distress instead. Continue reading "Mini Review: The Sleeper and The Spindle" →