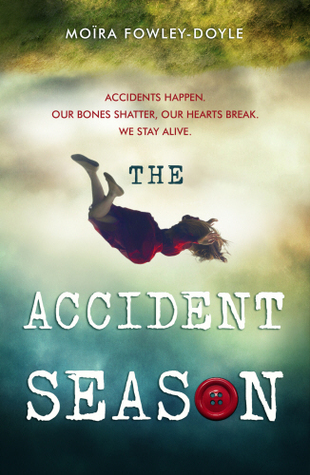 Title:  The Accident Season
Author:  Moira Fowley-Doyle
Rating: 4.5/5 stars
Series? No
---
The Accident Season was a bit of a surprise for me, I didn't expect it to bowl me over and delight me in EVERY way possible. I eagerly read every beautiful, haunting sentence. I craved its slight dark and off-kilter spin on reality. I laughed, cried, and loved along with all of the main characters. It's a story about a family curse, with a big fat highlight on the family, identity, and the memories which define us.

It's the accident season, the same time every year. Bones break, skin tears, bruises bloom.
Every October, Cara and the rest of her family suffers through the inexplicable accident season. Around every corner, tragedies of every size awaits them: from the little, such as a landslide of hardbacks (being a book worm is, as you are all aware, a deceptively dangerous hobby) – to the large, such as the passing of their beloved uncle, Seth. This year, Cara also discovers that Elsie, a childhood friend she has lost touch with, lurks in the background of all her photos. The mystery that is the Accident Season and Elsie seem intrinsically linked, and this book follow our protagonist as they unravel the truth.
Maybe it was something inside us; the mysterious something that connects every bone of our spines, or that keeps our teeth stuck to the insides of our mouths. Maybe it was something between us; something in the air or in the flames that wound around us.
I adored the writing in The Accident Season, it flows beautifully and sets a delightfully disjointed and unsettled tone over the book. Magical realism is one of my favourite genres, and this book perfectly embodies that in the way it blurs familiarity with dreamlike, otherworldly elements. It also created a creepy atmosphere that had me glancing over my shoulders for the entire read. I know that Josie* found it a bit too frightening and had to DNF, so your mileage may vary.
The girl dressed like a forest, the tall, scaly-skinned mermaid girl, the flickering ghost boy and the tiny Converse-wearing fairy girl.
Despite the numerous unearthly elements in The Accident Season, at the core of the story is a tale about adolescent uncertainties and identity that I'm sure many can relate to, regardless of their age group. I loved how I connected to everyone of these characters, in all of their eccentricities and flaws. There's Cara, inquisitive and curious, but not always perceptive, I freaking adored her narrative voice! There's cool, practical Alice, her sister, eager to distance herself from the accident season and her tumultuous childhood. There's Bea, a red-headed force of nature, who embraces her own oddity with full force so she can disguise her own insecurities. Finally, there's Sam, the ex-stepbrother who's viewed as part of the family, but struggles to find his place in life. I adored each and every one, along with their relationship to one another. There's two romances in this book that's both heartwarming and heartbreaking, all at the same time. JUST KISS, KIDS, JUST KISS. ahem*
So let's raise our glass to the accident season,
To the river beneath us where we sink our souls,
To the bruises and secrets, to the ghosts in the ceiling,
One more drink for the watery road.
The poem above makes numerous appearances in this book. Initially it seems a bit nonsensical, but every time it appears, another layer of the puzzle at the heart of the book is peeled back – right up until its cathartic conclusion. It's an exquisite corpse, a type of poem written by more than one person, and I found it perfectly fitting for The Accident Season, whose ultimate mystery lies in the stories surrounding each character.
Though we mainly see the events unfold through Cara's point of view, it's only when details from Alice, from Bea, from Sam, and even from her mother, is added to the mix that the plot hits its peak. Basically, this is my very round-about way of saying that The Accident Season is a book that should be savoured until the very end, because the last pages turn the book from an enjoyable to a memorable read.
---
* Footnote: JOSIE! You need to get back and finish this wonderful book – I will be here to hold your hands if necessary! Same to the rest of you, this book is one of my favourite reads in August, don't miss out!