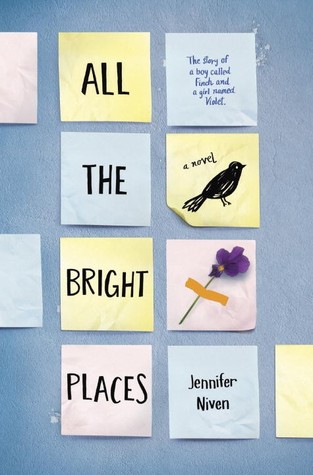 Title: All The Bright Places
Author:  Jennifer Niven
Ratings: 4/5 stars
Series? No
---
I read a YA contemporary novel.  No, hell has not frozen over, the sun still rises from the East etc… I just wanted to join in on a twitter chat with the author.  IT HURTS TOO MUCH. I still haven't fully recovered from the emotional beating- all I know is that my heart is weak and I need a good dose of SFF to recover.  Anyway, slightly different format of reviewing today to commemorate this blog's first contemporary review! Oodles of quotes because the writing in this book is beautiful!
The story of a girl who learns to live from a boy who wants to die.
That quote is pulled from from the cover of the book, it promises you'll be in a world of pain.  Now, I do not like books that set out to make me cry – I hate emotional manipulation.  However, I couldn't help but be pulled into these characters – stoic and cynical as I am.  It helped that Jennifer Niven wrote the book from a very personal and painful experience, so the book came across genuine.
The book starts with Violet who's contemplating to end her life at the school's bell tower.  Once, she lead a charmed life.  She was beloved sister, daughter, and friend.  She's still has the latter, but a car accident has left her sister dead and her broken.  Violet suffers grief and survivor's guilt, she can't reconcile the life she lead before the accident with the one after – how can she continue being perfect when a part of her has been torn away? Her struggle was something I could wholly empathise with.
---
However, the encounter crosses her path with Theodore Finch – schools' reject and rebel.  He's also far from perfect, but he
sees her struggle and he helps her in his own unique fashion.
Finch has his own demons, he has mental issues that adults around him either ignores or are completely unequipped to help him deal with it.  Though I love his narrative voice, I know a lot of readers had issues with his quirkiness – but I felt that it was part of his coping mechanism. I also felt lost and angry for him – his thoughts were always morbid, fleeting to suicide and a million different ways to die.  I was upset how no one could hear his own cry for help, and frustrated at how this was so like real life.
When he finds Violet and possible happiness, the warning comes:  Just Be Careful. As though people expect him to break everything he touches.
---
The most heartbreaking thing about this novel is that both Violet and Finn truly wanted to get better,
Life's a bitch though, and it's thrown a lot their way: The stigma associated with being depressed. The enormous societal expectations on them to magically become cured when their disease is barely recognised. Also domestic abuse, bullies, death.
---
My favourite part of the book is the relationship between Violet and Finch ( though, let's be honest here guys, that's basically all that's in the book :P)
In the chat last night, Jennifer Niven revealed that she wanted the reader to understand how they saw one another – and I think she succeeded.
Finch saw Violet as his bright place, a reason that makes life worth living.  Violet saw Finch as the catalyst to her new life: he challenges her to rise against all her grief and depression.  Their romance was touching and believable.
But is love alone enough to save anyone?
---
At the heart of the problem: the issue isn't about the lack of love – it's a lack of understanding.  Of not knowing how far gone someone is into their thoughts of suicide.  How do you even help someone if you don't even know or acknowledge their issue.  Oh my god, I get so upset even thinking about how everyone in Finch's life missed the signs.
---
Ultimately though, this is a book about forgiveness.  The power to forgive others, and the power to forgive yourself. Life
goes on, and it's the only way you'll be able to cope.
This book was so crushing because of how realistic it can be, any of the teens walking out there right now can be Finn.  At the end, I just wanted to know WHY – but sometimes, we can never get that answer.
---
Wow, my thoughts were all over the place with this one. Confession:  I have fortunately lived a blessed and charmed life – I wasn't the most popular girl in highschool, but I always belonged. I had a group of very close friends who were all supportive and beautiful.  I had a family that would bend over backwards to make sure I am happy.  Even now, I am still loved and happy, I know very little about the dark places that people go to.  This is why this book and others like it are so important, not only for those who are struggling, but for the ones that aren't – so that we can be in someone else's shoes.
Have you guys read this book or others that dealt with similar issues?  What are your thoughts?