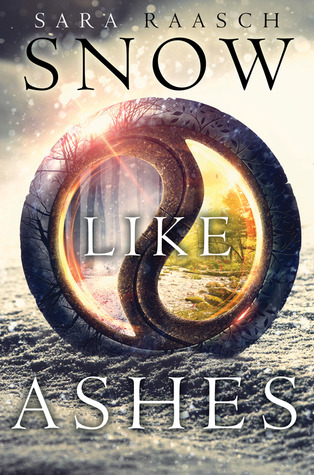 Title: Snow Like Ashes
Author: Sara Raasch
Series? Yes. 1 of 3.
Rating:  5/5
---
Snow Like Ashes to the second YA fantasy I'm reviewing this week that's likened to Game of Thrones.  I don't agree, I think it's more similar to The Lumatere Chronicles by Melina Marchetta, which is another of my favourites.  Snow Like Ashes also manages to be unique with characters that I can root for, I LOVED it.  Here's a few reasons why.
1.  Vivid Setting
Oktuber was a maze of rickety barns and tents in maroon, azure, and sunshine orange, with the crystalline blue sky gleaming above, a sharp and beautiful contrast to the kingdom's earth tones…Their skin glistened the same coppery brown as the leaves on some of their trees, only where the leaves were crinkled and dry, the Autumnians' faces were perfectly creamy
There are 8 kingdoms in this world.  Four are Seasons:  with close links to magic that grants them only one season a year, thus they are named for these seasons.  Hot, dry Summer that are uninviting to our protagonist.  Cool, vibrant autumn with citizens of copper skin.  Spring, though lovely in name, is ruled by a dictator named Angra with powerful magic.  Finally, Winter, the lost kingdom of eternal snow – utterly destroyed by Angra 16 years before the start of this novel.  Furthermore, there's four Rhythm kingdoms that undergoes the normal seasonal cycle.  We mainly got to see Cordella, a prosperous kingdom who's chief exports are lavenders and princes that steals your heart.  All of these settings are described in beautiful clarity and reading about them was akin to a cinematic experience.  
"It's so cold that foreigners have to wrap in layers of fur to walk from building to building, while our natural Winterian blood keeps us warm even in the worst conditions. And snow is everywhere, always, so much that the grass beneath it is white from lack of sun. An entire kingdom wrapped in an orb of eternal winter."
There's also an interesting magic system here, where only the reigning monarch of each kingdom has access to magic via a conduit.  Does having the kingdom's safety resting on a locket or a staff sound dangerous to you?  That's because it is!  Basically how Winter fell. However, there are hints there's more to magic than these conduits, something I'm interested to see in the future books.
2.  Heartbreaking Tale About Finding Your Identity and Home
I reach out and touch the spines of the books on the shelf. They remind me of the fire pit Finn brought back. Holding on to some part of your past even if it means also holding on to the pain of never again having it. That pain is less horrible than the pain of forgetting.
I will confess I got quite weepy over this book, perhaps it's because I was nursing a flu while reading it, or perhaps it's because I identified with how Meira felt.  Told that she should love and serve a kingdom she's never even seen since birth, I think both Meira and Mather felt lost.  I could feel all the Winterian's yearning: to reclaim their home, to find a place to belong, to have something to be proud about.  I felt for them when they witnessed the Cordellans and the pride they had in their own country. There's also a scene with the Winterians towards the end of the book that left me a quivering mess, I don't want to spoil too much, so just read it guys!
3. Strong, Yet Relatable Heroine
"No matter what happens, no matter who turns on me, no matter what pompous swine thinks he has power over me, I am still me. I will always be me."
I adored Meira who did not have the answer to everything, nor the strength to accomplish all the great heroic feats, but still persevered regardless for her fellow survivors.  She had a complex relationship with Sir, her pseudo-father figure and mentor that wrenches at my heart.  The way she she fought for his approval while trying to maintain her own identity was something I could empathise with.
"I wanted a life of my own, a life where I could feel myself being a part of Winter. And that, to me, came though fighting for it."
Meira's struggle to identify with Winter and longing for it was also beautifully portrayed.  Though she has never seen it for herself, her memories comes from the tales of the older generations and she still yearns for this home.  As mentioned in the previous point, I thought this was something the novel illustrated with finesse.
I also really enjoyed that while there was a small undercurrent of romance (and even a dreaded love triangle) in the book, it was Meira's journey that was the most important. Never did she veer away from her main task of rebuilding Winter, no matter how many boyfriends the plot threw at her, this is something I appreciated a lot.
4.  THERON!
"They make decisions; they mold your future. The trick is to find a way to still be you through it all."
FACT: I didn't get the concept of book boyfriends until  I met Theron.  He's so unconventionally charming, understanding, and a perfect partner and equal for our heroine.  I love how he connects to Meira on an instinctual level, as they both understand what it's like to be denied your true calling and a chance to prove self-worth.  I also love that they develop as individuals by meeting one another, this is an essential element for me in any romance and I look forward to seeing more of these two in the next books.  I also liked that Theron had an ambition and personal struggles of his own outside of Meira, as so often these love interests are left underdeveloped.
I liked Mather and his complex relationship with Meira as well, they had so much baggage from the status inequality – but have loved each others through the years despite it. Though I'm firmly a Theron fan, I'm also excited to see more of these two in the following book.
---
Basically, I love this book and it's my favourite YA fantasy read in a long time, this book has it all:  engrossing storyline, a protagonist you can respect and root for, beautiful worldbuilding, a heartwrenching large scale war that's affected an entire race of people, plus two complex love interest.  It got me in the feels, guys.
Have you read this book? What did you think of it?