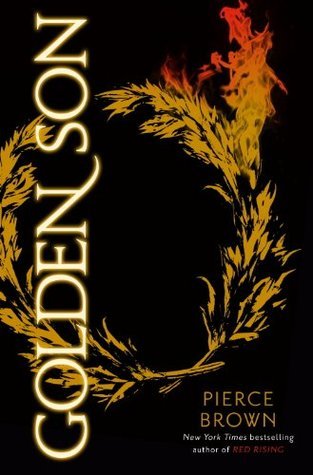 Title: Golden Son
Author: Pierce Brown
Series? Yes. 2 of 3.
Goodreads
Book Depository
---
I waited 3 days after the conclusion of Golden Son to write this review, because for a whole day, the only thing I was capable of emoting was HOW DARE YOU, PIERCE BROWN, YOU CRAZY GENIUS?
Ahem.  You know how second books are always the unwanted middle child no one loves in trilogies?  Not Golden Son. Not never. This is the perfect sequel to Red Rising in every way, excelling where Red Rising was good – and all those reservations I had about Red Rising? Bloodydamn gone, my goodman!
1.  More Stakes and Schemes
"For seven hundred years, my people have been enslaved without voice, without hope. Now I am their sword. And I do not forgive. I do not forget. So let him lead me onto his shuttle. Let him think he owns me. Let him welcome me into his house, so I might burn it down."
Much of the last book took place at the Institute, where Darrow was simultaneously fighting for his life and proving his worth to the Golds. He was driven by his own rage and desire for revenge. Now, the fight is no longer for himself, he understands that he represents all of the Reds still unwittingly enslaved underground.  He slowly assumes a role a leader, and learns to make difficult choices that would bring about justice rather than vengeance.  This was no easy journey, but it's one that was incredibly satisfying to watch unfold.
Darrow's also in an extremely dangerous position: caught in between a blood feud between two of the most influential families on Mars.  Not to mention the Sovereign of the entire Solar System has an agenda against him. Gone are the war waged between students — this is real shit hitting the fan!  Space battles, Iron Rain, assassination plots, and schemes being thwarted at every turn.  Golden Son is unceasingly engaging, tense, keeping me on my toes the entire time.
2.  More Ladies
"I am not some frill-wearing tramp. I am a genius. I say this because it is a fact. I am smarter than any person you've ever met, except perhaps my twin. My heart does not make my brain a fool."
One of my main quibbles about Red Rising was the lack of central female figures with their own agenda, they were supporting acts for Darrow.  Golden Son changes all that with not one, but at least three *awesome* ladies.  First and foremost: the whipsmart Mustang and her spine of steel.  She does not let her emotions for Darrow hold her back, the lady will do all within her means to protect her family and those she loves. As seen by the quote above, Mustang refuses to be labeled by the men around her: she's not whore, she's not some lovesick girl, she's not a traitor to her family – she's her own gorydamn woman! Octavia au Lune, the Sovereign, was also a terrifying and glorious dictator – Darrow never quite manages to outwit her for long.  There's also Victra, at first she appeared to be the stereotypical 'snarky warrior' character type -but she was also given vulnerability and depth.  I love them all and can't wait to revisit them in the following book.
3.  More Feels.
"They say a kingdom divided against itself cannot stand. They made no mention of the heart."
Firsly:  romantic feels between Darrow and Mustang.  I never cared for their relationship in Red Rising, but I loved them by the end of Golden Son.  I felt for Darrow, trapped as he was in his lies.  He desperately wanted to be understood, but knew that he ultimately had to turn away from Mustang due to the difference in their colours.  Mustang lets him have his own space, but she was endlessly supportive.  Plus, that ending nearly killed me!
Also equally important:  friendship feels.  I am so happy to see the return of Sevro and Roque in this book, as they were characters I enjoyed immensely in Red Rising. Sevro and Darrow's relationship is the BrOTP to end all BrOTP – the reasons for the loyalty Sevro shown for Darrow was examined in more depth.  Their friendship was tested, but did you ever really doubt the extent of Sevro's adorable attachment to Darrow?  Roque's arc really broke my heart — I felt that out of all of Darrow's friend, he was the one most affected by constantly being held at arm's length.  There are fractures in their friendship, one that possibly cannot be mend.  Will this go the way of Cassius?  I probably already know the answer to that but I refuse to face it.
I also liked the relationship Darrow strikes in unlikely places:  in Victra, in Ragnar, in Lorn.  Basically, this book gave me all of the feels with regards to loyalty and the bonds between people – transcending class.
4.  More Worldbuilding
"The deeper we go, the fewer the lights, the dirtier the buildings, the stranger the animals, but the more brilliant the graffiti."
Golden Son expands on the world established in Red Rising.  We move beyond Mars to Lunar, to space, and to glimpses of other planets.  We also see Darrow see past the two colours of Red and Gold, as we learn more about the Pinks, the Blues, and the Obsidians.  I found the mythology behind the creation and control of the Obsidians incredibly intriguing and would love to see more of it- for a class of people I've previously dismissed as all brawns no brains, they are a surprisingly spiritual group of people.  Getting glimpses of how the Pinks and the Blues work also helps cement how unbalanced and unfair the world that the Golds occupy is – and it allowed us to see why Darrow is seen as a figure of inspiration.
The views into the different factions within the Golds vying for power was very interesting.  The book starts to question what would happen if these godlike beings had their positions threatened.  Another important question that book raised is whether the oppressed would appreciate the rebellion, what are they to do when the class divide is so institutionalised and second nature?  These are questions that also applies to the world today – I appreciate any scifi books that can reach beyond its pages and touch on current issues.  Golden Son does that beautifully, in a way that never feels preachy.
5. More Plot Twists
"Modern war is fearing the air, the shadows, fearing the silence. Death will come and I won't even see it."
There are more surprises in this book than I can shake a stick at -making it an incredibly tense and page-turning read.  Never have I uttered 'OMG' so much in one book.  I read the book in 1 day despite having work all day and other engagements, the twist and turns kept me guessing and I could hardly tear myself away.  Just whenever I think Darrow has shit under control, it all blows up in everyone's faces in the most spectacular and horrific fashion. The very last pages broke me.  I can only hope that the next book can bring the pieces back together.  I simply cannot wait for 12/Jan/2016!
---
I highly recommend this series.  If you haven't read it, please do so.  If you have, please let me fangirl with you 😀