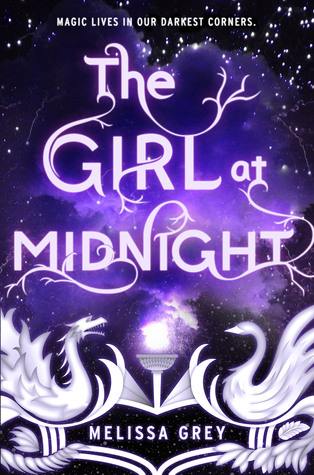 Title:  The Girl at Midnight
Author: Melissa Gray
Rating: 3/5 stars
---
I came for the pretty cover.  I kept reading due to the interesting premise. I was ultimately disappointed as overall, the book was quite forgettable.
The plot centres around the conflict between the Avicen (a race of birdlike people) and Drakharin (a dragon-like warrior race). These two ancient races have been bitter enemies for centuries, with no end to their war in sight. The fabled Firebird is a creature that once found, will resolve their struggle for good.  Echo is a teenage pickpocket who has been raised by the Avicen, through fate she finds the map to the mythical Firebird.
There are many elements of this book that resembles previous YA releases, and it's little wonder it's been compared to The Daughter of Smoke and Bone by Laini Taylor so many times.  There's the human girl, stuck between the struggles of otherworldly beings – she even hops between tourist destinations just like Karou!  However, I felt that the writing here was not quite as strong as Taylor's lyrical prose.  At least she went to different cities, I guess?  At times, it felt like someone's travel wishlist, with New York, Taipei, Paris etc making cameo appearance every couple of chapters. However, they went to Kyoto, one of my favourite places in the world, so I can give it back some brownie points for that.
The main cast consisted of well-established stock characters: the main orphan girl, the enemy-turned-love-interest, the guy to fill out the love triangle, their best friends, and the eccentric sidekick.  While it's hard to avoid these stereotypes, I could never developed a connection to any of these characters.  Nor could I understand how the numerous romances developed.   While none of it was instalove, there was not enough chemistry in any relationship to make it authentic. SPOILERS: I do give the author props for going against expectations with the love quadrangle by introducing a same-sex relationship.
While it sounded like I hated the book, I actually rather enjoyed it during the read, hence the 3 stars.  I thought the writing style made for a quick, breezy read despite the plot's many flaws.  However, it was definitely not memorable, nor am I clamouring to read book 2 of the series.