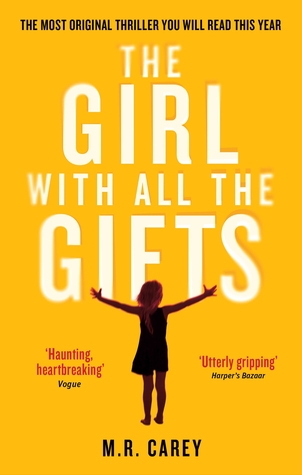 Title:  The Girl With All the Gifts
Author:  M. R. Carey
Rating:  5/5 stars
---
This is one of the rare instances where I started reading a book I knew next-to-nothing about.  All I knew about the book was: Melanie is a 10 year old girl who's been locked in a cell for as long as she can remember.  I thought it was going to be a bit like Ender's Game.  However, what I ended up reading was, dare I say, far better than Ender's Game.  Here was a dystopia with a familiar premise, but it felt fresh because of how character-centric the writing was.
Melanie is a protagonist, and most of the chapters we read are from her point of view.  I loved her narration, the author was great at keeping her voice innocent and filled with the black/white convictions only possible in childhood. There are four other narrators in this book, and their voices were all very distinct.  I liked how Caroline Caldwell's chapters were handled in particular, as I could understand her motives yet never sympathise with her cause.
This is definitely a book that is best experienced without knowing too much about it, hence I will keep this review vague in terms of plot details. It's got a lot of elements of post-apocalyptic zombie fares such as World War Z & The Walking Dead. However the science in the book feels very well researched and the writing makes TGWAtG unique.
I often feel dissatisfied with endings of stand-alone novel. The series-reader in me can't help but want more.  Though in this case, I felt the ending was perfect.  Thinking back to the events of the book, I don't think any other ending is possible.  Just like Melanie's favourite tale: Pandora's box, after all of the hurt and the evil has ravaged the world, hope still remains.
I would highly recommend this novel to anyone getting jaded with the current offerings in the dystopia genre.