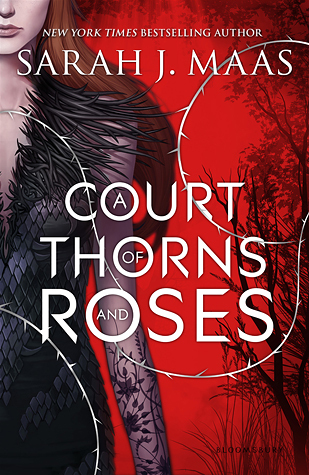 Title: A Court of Thorns and Roses
Author: Sarah J. Maas
Ratings: 3.5/5 stars
---
I really want to get swept up in the phenomenon that is Sarah J. Maas' books, as I love the covers, synopsis, and her dedicated fandoms. Thus I went into this book with high hopes, especially since I have a soft spot for Beauty and the Beast. Now,the good parts of the book were page-turning and beautiful. However, for most of the reading experience, I had to stop multiple times to ask myself: 'Where the heck is the plot?'
From around 5% mark to 70% mark of this book, we had a series of scenes that felt like fillers. Sure, they contributed to giving us glimpses of Prythia, the faerie land – but what we saw were limited to Tamlin's court. Yes, they might be intended to establish the relationship between Feyre and Tamlin – but to be honest I never became invested in them as a couple. Their famous scene in Chapter 27 was undeniably steamy, though the rest of the time they had very little chemistry. All these pages boiled down to: Feyre goes 'hunting' → Feyre somehow fucks up → Rescued by Tamlin/Lucien → Feyre paints → Feyre frolicks / makeout with Tamlin → rinse and repeat.
"Be glad of your humam heart, Freyre. Pity those who don't feel anything at all."
Thankfully, the book picks up towards the last arc, where a lot of interesting backstory and character development took place. I grew to love Feyre in the last quarter of the book. She has agency, she's willing to make tough choices and face the consequences, she walks the talk – basically Feyre = best part of the book. I would also like to see more of Nesta in the future, her personality is one I find compelling. The villain of this book was sadly quite one-note, so I'm glad we are done with her, hopefully she will be replaced by someone more interesting. Prythia and its 7 faerie courts also promises to be an interesting setting for the next book. I look forward to seeing how the courts' alliances/rivalry will carry out now that they have removed an immediate threat.
"We're too powerful, and too bored with immortality, to be checked by anything else."
I will be picking up the sequel as I'm interested to see how the story develops from here. Overall, this would have been a 4 stars if it weren't for the slow beginning. I really wanted this book to be more. Nonetheless, I'm excited to go and read more of Ms Maas's books!