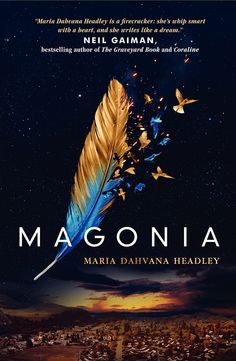 Title: Magonia
Author: Maria Dahvana Headley
Rating: 4/5 stars
Goodreads
Book Depository
---
Magonia stars Aza, a teenager who's been drowning in air ever since she was five years old.  She lives in our world, yet cannot be a part of it.  However, she soon sees vision of birds, a ship in the sky, and feathers in impossible places.  All this ultimately leads her to another world beyond her imagination.
The thing I enjoyed most about Magonia is the creativity that went into its worldbuilding and mythology. YA is a genre often plagued by trends: faeries one year, followed by angels, dystopian universes, terminal illnesses, fairy tale retellings. Magonia stood out like a breath of fresh air, offering us hybrid-bird sky pirates who inspired the world's first account of UFOs. Yes, the familiar tropes are there: a dying girl, a childhood friend, destiny as the chosen one. However, Magonia had such a fresh take on them that I did not mind at all!
"If you look at the sky that way, it's this massive shifting poem, or maybe a letter, first written by one author, and then, when the earth moves, annotated by another. So I stare and stare until, one day, I can read it."
Aza was there with us to experience the strange wonders of this world first-hand. For someone who's been told she had a timer on her life since she was five, Aza remains strong and curious about the world around her. I also enjoyed reading about her relationship with Jason, who's an incredibly unique character himself. Though there are hints that he is physically swoon-worthy, but his defining characteristic was his keen intellect and his charming eccentricities. There's also a strong focus on family ties in this book, I appreciated this as parents are so often brushed to the sidelines in these kinds of adventures.

Magonia succeeds as a stand alone book, but there's also plenty of material for a sequel. I would love for an opportunity to take to the skies with Aza once more. Here is a book I would love seeing in movie form, the beautiful imageries begs to be adapted (I want to see squall whales, stormsharks and heart birds!). The only aspect letting this book down was the lack of character development, especially for anyone not named Aza. I also thought the quasi love triangle unnecessary – but there's future installments to prove me wrong.
If you're looking for an adventure into a completely new world, pick Magonia up ASAP!