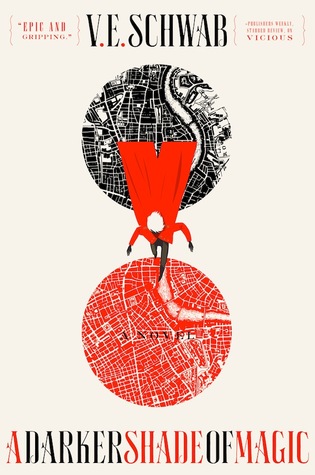 Title: A Darker Shade of Magic
Author: V.E.Schwab
Rating: 5/5 stars
Goodreads
Book Depository
---
Thank you V.E.Schwab, this book reminds me why I used to love reading so much! As mentioned in my previous post, I haven't read much in the past year, especially compared to how I devoured books during my university years. What I did read was limited to authors or series I knew I loved. But I am so glad I started branching out because I found this gem that made my inner book geek all giddy. I stayed up until 1AM last night reading it, I have not done that in a long time, I miss it!
I'm a sucker for the whole 'strangers meet & saves the world together, discovering one another as well as themselves in the process' storyline – so it's little wonder I love ADSoM. I adored Kell, our male protagonist. He had his fair share of angst (forgotten memories! adoptive family! one of the last of his kind!) – but despite all he remains a good-hearted man. Kell was the person connecting all the different worlds together, not least via all of his relationships: with Lila, with Rhy, with Holland. I really enjoyed reading the interactions he had with these characters, and I can certainly understand the fangirl urge to 'ship everyone'!
"I'd rather die on an adventure than live standing still."
There's many other characters to love: the kind, winsome bisexual prince Rhy. The tortured, enigmatic, dark Antari Holland. However, Lila Bard eclipses everyone to be my favourite character in the series. She is charming, sharp-witted, adventurous, and debonair to boots. No wonder she's had ladies both in and out of the book's world gushing after her. For all her numerous qualities, she also had a sympathetic vulnerability at her core. Lila's the character to excite me the most in this series, I believe she could take over all the worlds if she wanted too. Basically, all the hearts to Lila Bard!
"I'm not going to die," she said. "Not till I've seen it."
"Seen what?"
Her smile widened. "Everything."
I also greatly admire the world building and the laws of magic in this book. Ms Schwab has painted vivid images of all four Londons, each with their own distinct traits – down to their own language and smell! The plot of ADSoM was also utterly engaging (hence the late night!) from beginning to end. I was entranced from the first page due to the world building – and remained captivated to see how Kell and Lila will succeed against all odds. It was so great to see a book with no annoying cliffhanger at the end, the story for book 1 wrapped up neatly. Of course, there are still a couple of loose ends, all the better though, because I can't wait to dive into the world again with future installments.